Small urethane wheels are manufactured to the precise specifications of our customers, and over the years their testimonies and feedback have helped us becomes experts at design and manufacturing. Our in-house machining shop is fully equipped with world-class equipment and machines; as such we produce the highest quality small urethane wheels with tough and smooth bearing design.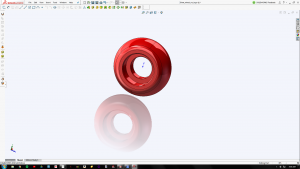 Plan Tech's small urethane wheels have an attractive appearance, are resistant to abrasion and most chemicals; they are non-making and will not skid or chip your floor surface. Designed tough and for maximum carrying capacity, they are recommended for applications where it is important not to damage or mar a surface area while still retaining excellent abrasion resistance. Our small urethane wheels can also provide resistance to corrosion, cutting, floor protection, and noise reduction all while providing an industrial grade material that can handle a lot of capacity. Known to be non-conductive, and superior to other materials in withstanding oil, grease, cutting, and chunking our small polyurethane wheels guarantees an exceptional performance. Designed with a rust-resistant finish, this gives you a smooth roll for the toughest jobs. Finally, we are the factory; we design and manufacture your small urethane wheels from start to finish so we can offer you a factory direct price.
Plan Tech also has an outstanding team of dedicated employees with exceptional talents designing and manufacturing small urethane wheels and custom molded urethane parts. We also are very proud of the "company we keep." Our customers include many Fortune 500 companies, most of whom have been customers for 20+ years. Their drive to become industry leaders has helped us do the same. Whether you are a start-up company or global leader, we can add value to your products with our strong engineering support, urethane polymer experience and constant focus on meeting all delivery requirements. Our rapid prototyping capabilities have also received particularly positive feedback – we frequently go from "Print to Part" in 10-15 business days. Everything we manufacture is MADE IN THE USA!
Please Contact us for further details about small urethane wheels!