Solid polyurethane wheels have proven to be the authentic solution for several industrial applications; they can be used for heavy wash-down and food grade environments. They are also steam cleanable and ideal for use in both food and pharmaceutical applications. Solid polyurethane wheel manufactured by Plan Tech provides a one-piece molded solution which eliminates the issues of tread bond failures often encountered when utilizing other materials.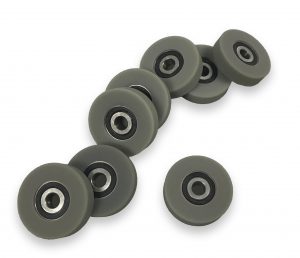 As a market leader in developing 21st-century polyurethane materials, Plan Tech makes use of the very best in-house technology and facilities to produce its solid polyurethane wheels. Made from high tech polymers and formulation, the Plan Tech engineering team can manufacture your solid polyurethane wheels in any shape, size, hardness and to any color you choose or that suits your application, whether in small or large batches.
So, if you are looking for solid polyurethane wheels or replacements for your machinery, then you are in the right place. Our solid polyurethane wheels are manufactured with the expectation of a high performance, reliability, and a formulation that will withstand rigorous work environments. Our solid polyurethane wheels provide durability with resistance to chemicals, corrosion, solvents, heat, and abrasion which meets and exceeds several industrial demands. Plan Tech a leader in cast urethane manufacturing, process's urethane additives from the world's leading chemical companies. Whether its enhanced lubricity for high abrasion resistance applications or for anti-static wheels for shoppers who don't want to be zapped touching a metal cart. Having more than 30 years experience in the polyurethane industry provides Plan Tech the specific knowledge of incorporating polyurethane additives into solid polyurethane wheels:
FDA Urethane Additives: Eriez POLYMAG® a leading manufacturer of Metal Detector systems, allows urethane molders to produce FDA Metal Detectable and X-Ray Visible urethane parts for food contact applications that can satisfy varying levels of detectability. Acceptable for repeated contact with food under section #177.21000, subpart F. Can be used in continuous and repetitive contact with dry, aqueous and fatty foods. Typical features of these polyurethanes include outstanding abrasion resistance, high tensile and tear strength, and excellent load bearing capabilities.
High Durometer Urethane Additives:  Air Products Founded in 1940 provides world-leading food curative that can be used in the manufacture of polyurethane elastomers intended to contact dry food.
Are you interested in Solid Polyurethane Wheels? Please Contact us so we can help solve your requirements!