Solid Urethane Rollers are one high precision urethane products that are being utilized across different sectors. They are manufactured in our state of the art in-house machine shop (that is well equipped with sophisticated machinery) to meet high end use specifications.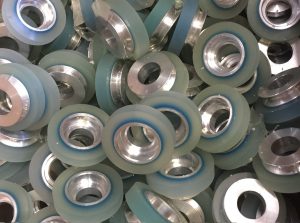 Our team of engineers who boast exceptional technical expertise always apply speed and accuracy while manufacturing our solid urethane rollers to ensure fast turnaround and consistency in quality. We also make sure to make use of only the very best of raw materials available on the market to ensure that our solid urethane rollers stand out from those of other brands in the sector. It, therefore, isn't a surprise that our customers have always attested to the superior physical properties of the solid urethane rollers manufactured at Plan Tech.
With our solid urethane rollers, you can expect excellent resistance against wear, chemicals, abrasion, and corrosion, etc. Our solid urethane rollers are also a class above others on the market due to their ability to withstand harsh environmental conditions as well as weather extremities. We also have special additives which can be applied on demand to further enhance the physical properties of our solid rubber rollers. No matter the size or hardness of solid rubber rollers you seek, our engineers are well technically adept to meet your specific requirements.
Whether you are a start up company or global leader, we can add value to your products with our strong engineering support, urethane polymer experience and constant focus on meeting all delivery requirements. Our rapid prototyping capabilities have also received particularly positive feedback – we frequently go from "Print to Part" in 10-15 business days! Everything we manufacture is MADE IN THE USA!  Our production capabilities include:
In-house custom mold manufacture
Waterjet cut urethane parts
Automated adhesive application for high strength urethane bonding to metal and non-metallic substrates
Are you interested in Solid Urethane Rollers? Please Contact us so we can help solve your requirements and work with you on your specific application!