Spiral wing urethane rollers are high precision urethane products that find use in a good number of industries today. As leaders in the industry, spiral wing urethane rollers produced by Plan Tech offers the best load bearing capability, with tight tolerance and the desired flexibility.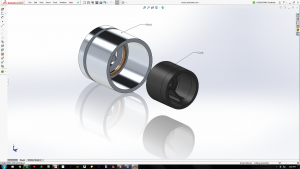 With Plan Tech you are guaranteed spiral wing urethane rollers with enhanced wear property, remarkable chemical and corrosive resistance ability, high impact strength, quiet operation and long service life. Also, our spiral wing urethane rollers offer an outstanding ability to withstand harsh environments and extreme temperature, whether hot or cold.
The wide range of our in-house capabilities helps in the reduction of production cycle time from the day the order was received to the final delivery, and we use advanced technologies to ensure your order meets all critical dimensions. No matter the profile or design you require; you can trust our team of engineers to meet your demands. These are highly skilled professionals who are among the best in the industry, and they guarantee exceptional durability for our spiral wing urethane rollers.
This simply means that you can rely on our spiral wing urethane rollers for high-performance ability and long service life. Over the years, we have become very specialized in producing top-rated spiral wing urethane rollers, and hence, we are capable of meeting your requirements no matter the application. Below are some advantages of using urethane vs Silicone, UHMW or Nylon:
DUROMETER RANGE
Urethane parts offer a wide coverage or range of durometers in comparison to Silicon, UHMW, and Nylon that are of limited range. One of the benefits offered by the wide durometer range of Plan Tech is that urethane parts are that you have the flexibility of choosing the perfect product from a variety of options.
RESISTANCE TO OZONE AND OXYGEN
Where Silicon, UHMW, and Nylon will fail you in resisting Ozone and Oxygen, Plan Tech's polyurethane's will efficiently do the opposite – which is, resist Ozone and Oxygen.
EXTREME TENSILE, TEAR STRENGTH AND ABRASION RESISTANCE
Before you purchase any material, make sure it is capable of holding up extremely to tensile stress and has a high-performance tear strength as well as resistance to abrasion. You certainly wouldn't find such capabilities in Silicon, UHMW and Nylon materials. But you can trust Plan Tech polyurethane products to offer such quality performance.
Please Contact us for further details regarding spiral wing urethane rollers!