Spring polyurethane washers manufactured at Plan Tech are compounded to provide optimum spring characteristics. They are designed with a great degree of precision and speed. As one of the many high-quality products made from polyurethane, spring polyurethane washers are always in high demand. However, the major challenge encountered by most companies and engineers of spring polyurethane washers is that of finding the perfect place where their demand can be met, both qualitatively and quantitatively in record timing.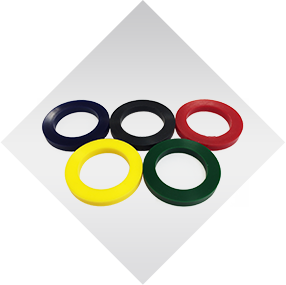 This is where Plan Tech becomes a key supplier and partner because, in our over 30 years of manufacturing top of the line urethane products, our team of experts has always applied speed and precision. This has enabled us to consistently manufacture spring washers that are of unbeatable quality.
Our spring rubber washers offer superior quality than most of the other brands in the industry, such as their remarkable durability and outstanding resistance against wear, chemicals, abrasion, etc. Plan Tech's spring poly washers can also be depended on to perform at their optimal best even in the most stringent environmental conditions.
Although we have a variety of spring polyurethane washers for you to make your choice from, our team of experts are still more than capable of custom-making spring rubber washers that will meet your specific requirements. Whether you are a start-up company or global leader, we can add value to your products with our strong engineering support, urethane polymer experience and constant focus on meeting all delivery requirements. Our rapid prototyping capabilities have also received particularly positive feedback – we frequently go from "Print to Part" in 10-15 business days! Everything we manufacture is MADE IN THE USA and our production capabilities include:
In-house custom mold manufacture
Waterjet cut urethane parts
Automated adhesive application for high strength urethane bonding to metal and non-metallic substrates
Open cast, rotational, compression and liquid injection molding
High speed automated and manual finishing equipment
Post-secondary assembly
World class metal preparation
On-site testing
Full in-house machine shop with multiple CNC mills, lathes, grinders, welding and sheet metal fabrication
Are you interested in Spring Polyurethane Washers? Please Contact us so we can help solve your requirements and work with you on your specific application!