Square urethane bars are among the numerous top-grade urethane components and parts that we manufacture in our world-class in-house cast polyurethane facility that is fully equipped with state of the art machining capabilities.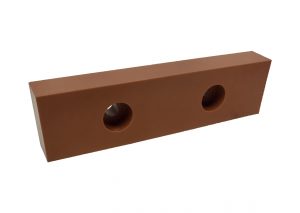 To ensure that the physical property of our square rubber bars is of superior quality than that of other brands in the industry, we always make use of world-class urethane materials from internationally renowned chemical producers.
Our square rubber bars boast impressive resistance ability against wear, abrasion, and chemicals. Our square urethane bars are also capable of withstanding extreme temperature, and their durability is second to none. Like all our other urethane materials, we always apply speed and precision for the production of our square polyurethane bars which allow us to maintain consistency in quality as well as meet the high volume demands of numerous customers.
We cast the urethane mold to make the part and then machine it using our standard urethane machinery. No matter the profile of square rubber bars you need, you can count on us to manufacture square bars that will meet the requirement of your application.
No other brand in the industry boasts a team of engineers with better technical expertise to handle your square polyurethane bars project from design to completion. For over 30 years we have focused on using speed and precision to manufacture the highest quality industrial cast urethane parts to our customers. A particular strength is the breadth of our in-house capabilities such as urethane compression molding and grinding urethane parts which, when combined with our extensive experience, enables us to deliver tight tolerance custom urethane parts while maintaining the quality control and cost-effectiveness our customers require. The tests are performed according to an established set of standards provided by an accredited testing organization such as the Society for Testing and Materials (ASTM) who define the procedures in detail. Plan Tech is also a registered defense contractor with the DLA U.S. Dept of Defense – Cage Code: 0CLU6.
Are you interested in Square Urethane Bars? Please Contact us so we can help solve your requirements and work with you on your specific application!