Square urethane bumpers are often used to align, guard, and position parts. They help protect surfaces from contact, shock, movement, abrasion, and vibration. Our success in producing quality wear-resistant square urethane bumpers is accomplished by combining dynamic performance with cut and abrasion resistance.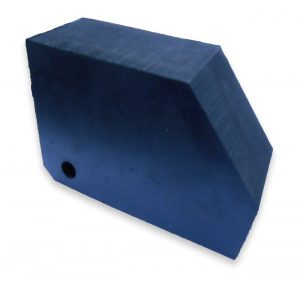 In order to deliver the very best square urethane bumpers on the market, our in-house machine shop is fully-equipped with state of the art facilities to facilitate the production of high-quality square bumpers. Our team of talented professionals are also on standby to create high precision designs. So whether you want your square urethane bumpers drilled unthreaded with counter-bored holes to accommodate mounting bolts or you want custom square urethane bumpers, we've got you covered. For hardness; we can make them as hard your application permits.
Our square polyurethane bumpers are highly abrasion resistant and can withstand high strength, load bearing, and temperature. They also have high elongation and hardness. They are excellent in resisting ozone and oxygen. We also produce square urethane bumpers with an aluminum base plate as these offer the best corrosion resistance. Standard and custom sizes are made available in our in-house shop. They are available in a variety of colors and with varying durometers.
Below are some of the benefits and advantages of polyurethane:
Oil and Chemical Resistance
Like their abrasion resistance ability, the properties of polyurethane materials are highly capable of resisting oil and chemicals. This enables them to maintain stability (with minimal swelling) in water or oil etc. If you are looking for elastomer materials to use in subsea, then polyurethanes should be your ideal choice.
Affordable manufacturing process
Productions such as prototypes as well as one time products or one-off parts are often manufactured using polyurethanes.
Polyurethane Resilience
Resilience is generally a product of hardness. Polyurethanes are the perfect choice for elastomer applications that can absorb shock. They have a high vibration frequency or outstanding ability for quick recovery. Their remarkable resilience ensures polyurethanes are very tough materials.
Please Contact us for further details or to answer your questions about cast square urethane bumpers!