Stock urethane drive rollers are custom fabricated to any special requirements with rapid turn around. Cast from high-quality urethane material drive rollers may have a steel or aluminum core added for additional strength or for bolt-on applications.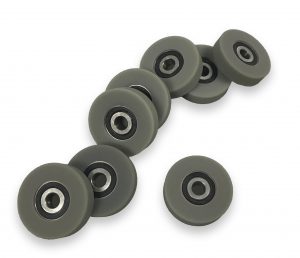 Plan Tech has an in-house machine shop capable of fabricating cores for drive wheels with any special hub or keyway necessary for the application. Our team of engineers will work with you on every detail to sure each and every stock urethane drive rollers are exactly what is needed. A variety of additives may be added to enhance the physical properties of our urethane to make the material more lubricity or to add anti-static capabilities. The urethane industry has seen a large increase recently with urethane drive wheels in the robotics industry. Plan Tech offers tight tolerance stock urethane drive rollers for any application including the automation industry.
FDA urethane formulas are also available in a limited amount of colors. Stock urethane drive rollers can be modified for any special application at our machine shop. Plan Tech also has grinding capabilities for soft hardness drive rollers offering a tight tolerance of +/-.005. Worn out stock urethane drive rollers may be stripped and reconditioned saving thousands in maintenance cost of industrial machinery.
Whether you are a start-up company or global leader, we can add value to your products with our strong engineering support, urethane polymer experience and constant focus on meeting all delivery requirements. Our rapid prototyping capabilities have also received particularly positive feedback – we frequently go from "Print to Part" in 10-15 business days! Everything we manufacture is MADE IN THE USA! Plan Tech also has an outstanding team of dedicated employees with exceptional talents designing and manufacturing stock urethane drive rollers We also are very proud of the "company we keep." Our customers include many Fortune 500 companies, most of whom have been customers for 20+ years. Their drive to become industry leaders has helped us do the same.
Please Contact us for further details regarding stock urethane drive rollers!