Straight urethane rollers are one of the specialty products that Plan Tech manufactures. Straight urethane rollers can be supplied complete with new shafts or reconditioned to any hardness including extremely soft durometers with a tight tolerance of +/-.005.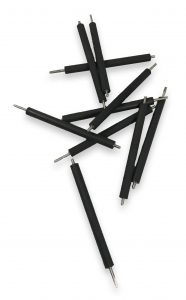 Each of the straight urethane rollers are machine ground to ensure that each roller will operate as smooth as OEM parts for a fraction of the price of originals. Plan Tech has a state of the art specialized machine shop capable of rapidly reporting straight urethane rollers to meet or exceed OEM standards.
Our hot cast polyurethane formulas yield results that outperform rubber 3:1 and OEM rollers 5:1 for often times no startup cost. A popular additive is an antistatic additive so dust and other foreign objects do not stick to the rollers.  Adding Lubricity to the roller is also popular which is not offered by most OEM replacements. Plan Tech also has FDA dry food approved urethane formulas that are also available in any hardness or color required for the application. We routinely win repeat business of straight urethane rollers that come from a worn out OEM part or a simple sketch. Frequently Plan Tech can go from a design to full-blown production in a matter of weeks.
Our machine shop includes CNC Lathes, Mills and Grinders for machining cast urethane parts. We also have manual mills as well as a sheet metal and welding area. In addition, we have a Flow Water jet with 48×96 inch sheet capabilities and can cut a list of materials like Polyurethane, Steel, Stainless Steel, Aluminum, Carbon fiber, and most plastics. We create complex molds for our in-house use as well as many of the components that are molded into straight urethane rollers. Molds are machined from aluminum or tool steel depending upon tool life requirements. The inserts and cores that we manufacture are made from a wide variety of metals and plastics including UHMW PE, ABS, aluminum and steel.
Please Contact us for further details regarding straight urethane rollers!