Tight tolerance urethane grippers are manufactured from high-performance prepolymers in our in-house cast urethane manufacturing facility. We have a wide range of proven polyurethane compounds and the capability to formulate compounds to meet the specific needs of our client's projects. This enables our team of skilled engineers to mold tight tolerance urethane grippers. Although not every molder can handle the complexities of some polyurethane molding projects, our experienced engineers welcome every challenge.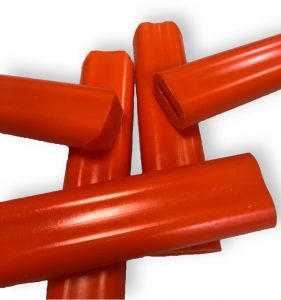 Our tight tolerance urethane grippers have proven to provide additional holding force and wear resistance to a good number of machinery in diverse industries. Our tight tolerance urethane grippers can also be permanently bonded to steel pads or other parts/materials. These tight tolerance urethane grippers transfer very high torque values, even with hard materials and surface irregularities. They are non-marking, non-staining and provide excellent protection against damage to finished workpieces. They also offer a firm gripping surface and effective wear resistance.
Our tight tolerance grippers are available in a good number of sizes and mounting configurations. They provide a non-slip grip, long run durability and extreme resistance to severe environments of heat, water, solvents, chemicals, and abrasion. Clients can purchase our tight tolerance urethane grippers from us in different diameters and at reasonable prices. Polyurethane is so important that it has constituted a significant part of our day to day life. Look around, and you will notice that "they" are applied in so many ways in almost all the available industries or fields from footwear, furniture, agricultural sectors to refrigerators, construction and automotive industries. This high-performance material come in different levels of hardness and textures like flexible & soft as rubber, as well as rigid & hard like plastic. The following are a few examples of products that use polyurethanes in their production.
Are you interested in cast Wear-Resistant Tight Tolerance Urethane Grippers? Please Contact us so we can help solve your requirements and work with you on your specific application!