Tight tolerance urethane washers are one of the numerous high-quality urethane products manufactured in the state of the art in-house cast polyurethane facility and machine shop at Plan Tech.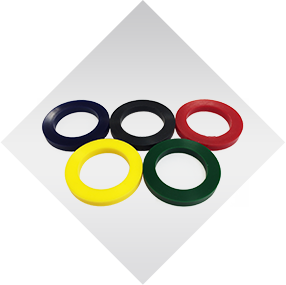 Like all our other urethane products, we only produce tight tolerance custom washers from top-grade raw materials. Our tight tolerance rubber washers boast remarkable physical properties and are available in different colors and durometers (hardness). They offer tight tolerances, ground finishes, and dual durometer rings to meet any specific needs and application.
Also, the tight tolerance urethane washers manufactured at Plan Tech are renowned for their excellent durability. In other words, our tight tolerance polyurethane washers are capable of maintaining their optimal efficiency even after several years of application.
Other advantages held by our tight tolerance custom washers over those of other brands include outstanding resistance to wear, chemicals, abrasion, and corrosion, etc. Our tight tolerance washers can also be heavily relied upon for their remarkable ability to withstand weather extremities as well as unfavorable environmental conditions.
We have them available in different durometer, sizes, and colors plus our engineers are highly versed when it comes to producing tight tolerance rubber washers that meet the specification and requirements of our most esteemed customers. Polyurethane is very similar to a rubber or plastic. Unlike nylon or UHMW, urethane can be compounded to produce very soft parts, as low as 20A Durometer, or up to very hard, 75D Durometer. Polyurethane is ideal in high demand applications were normal rubber would fail. The directory of test methods for cast urethane parts that are specified by ASTM are (a specific test method could vary):
Specific Gravity: (ASTM D792) Specific gravity is the ratio of the density of a substance to the density of a reference substance; equivalently, it is the ratio of the mass of a substance to the mass of a reference substance for the same given volume.
Are you interested in Tight Tolerance Urethane Washers? Please Contact us so we can help solve your requirements and work with you on your specific application!