U groove polyurethane wheels also known as pipe wheels, are a rounded shape of wheels used in most industrial tracks. The wheels have a "U" shaped groove on the outside diameter and also have a secure mounting. Plan Tech is a leading manufacturer of one of the best u groove polyurethane wheel on the market. Our u groove rubber wheels are precision machined from a high-quality polyurethane material, they boast long life sealed bearings, and have an outstanding load capacity.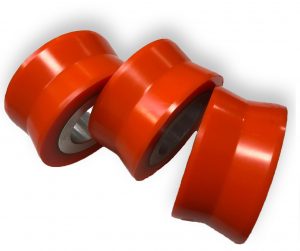 U groove polyurethane wheels can be used in a variety of applications; they are commonly used in manufacturing plants to raise workloads off floors and they can also be used on a variety of industrial tracks, such as production lines, sliding gates, assembly applications, racks, etc. Our team of technicians makes sure that our u groove rubber wheels are readily available in different sizes and are customized to fit nearly any commercial use or industrial application.
Our u groove urethane wheels can provide resistance to corrosion, floor protection, and noise reduction all while providing a material that can handle a lot of capacity. With their high strength and sturdiness, our wheels produce lesser friction as compared to other wheels, making it easier to move items that are extremely heavy. There are many advantages to polyurethane resins. They are known for their chemical, oil, and grease resistance, and are typically excellent at resisting abrasion and, as such, are not easily torn. This can explain why they are often used to produce synthetic rubbers. Here are a few Polyurethane suppliers:
Anderson Development Company: Anderson Development Company is a cutting-edge specialty chemical manufacturer. Anderson Development Company is committed to providing value-added solutions through our intense focus on helping our customers succeed.
BASF Corporation: At BASF, we create chemistry for a sustainable future. We combine economic success with environmental protection and social responsibility. Through science and innovation, BASF Corporation enables their customers in nearly every industry to meet the current and future needs of society.
Are you interested in U Groove Polyurethane Wheels? Please Contact us so we can help solve your requirements and work with you on your specific application!