Upstop urethane wheels are one of the best bets for a safety mechanism to make sure trains are physically locked onto their track. Plan Tech's upstop urethane wheels have been considered the perfect upstop wheel for high-speed roller coaster experience; this is because it offers low rolling resistance, smooth ride performance, high load endurance and high durability or low maintenance cost.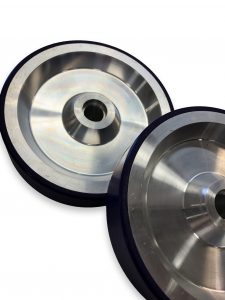 For over 30 years Plan Tech has been supplying the Amusement Industry with high-quality upstop urethane wheels and products. Plan Tech offers a complete line of products that fit the demanding dynamics of the roller coaster industry. Plan Tech's quality goes into each and every part as it continues to provide safe and reliable upstop urethane wheels.
Our proprietary polyurethane formula allows our upstop urethane wheels to be one of the most durable available. They are designed to exhibit very good mechanical properties, and as such, they have very high resistance to weathering, as well as gas or oil. Our in-house capabilities also help in reducing production cycle time from receipt of order to the final delivery, and we use advanced technologies in our machine shop to ensure that your upstop urethane wheels meet all critical dimensions.
Below are some reasons why you should specify cast urethane parts:
Urethane parts can be shaped accurately
No matter what shape you want your cast urethane parts to be, we can design them for your application by using extreme precision. We can create any custom cast urethane part that's up to 30 inches long with a tight tolerance of error in the process. You'll get a cast urethane part that is exactly as your project requires.
No matter what your intended application is for the finished cast urethane parts, they are sure to make your projects a lot easier and that much more refined. Custom made cast upstop urethane wheels are the way to go – no matter if you're an established business or somebody starting out.
Please Contact us for further details about cast urethane parts!