Urethane ball bearings that are well-molded and with soft durometer are the type of bearings we are renowned for in the industry. The urethane ball bearings undergo proper grinding at our premium grinding facility at our machine shop. Our urethane ball bearings are affordable and boast long service life, outstanding wear resistance and tight tolerances on all surfaces.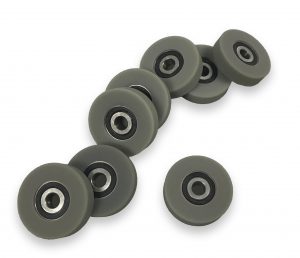 We can and have molded urethane ball bearings of any color and hardness which can be used anywhere or in any environment using high-quality polyurethane material from world leading chemical producers. We have several ways of producing urethane coated ball bearings depending on the required application and profile of the urethane coating. Therefore, you can trust our team of dedicated engineers to help give you that desired edge over your competition by adding value to your products.
Whatever your custom industrial specifications are, we assure you the capability of meeting your demand and that includes reversing engineering existing OEM wheels to your desired specification. Soft durometers urethane ball bearings are over-molded before being ground on special in-house built grinding equipment at our machine shop. Plan Tech can hold a tight tolerance of +/-.005'' on all surfaces for most urethane ball bearings. Most urethane ball bearings have little to no start-up cost as Plan Tech has been adding to what we call our family mold system to over-mold ball bearings of any hardness and color. We can also reverse engineer existing OEM wheels to provide a custom wheel tailored to any specification. Here at Plan Tech, we have developed preparation methods to consistently apply specially formulated urethane adhesives. Our proprietary equipment for cleaning, preparation, automated adhesive spray application and automated drying ensures a consistently high-strength bond between the urethane and the substrate. Over the past three decades, we have adhered cast urethane to millions of parts with an outstanding record of part performance in demanding applications. Some of the materials that we bond to include:
Steel
Aluminum
ABS Plastic
UWMW PE
Fabric
Fiberglass
Bronze
Felt
Please Contact us for further details or to answer your questions regarding polyurethane bearings!