Urethane bar stock custom made to your requirements for low-cost replacement parts. Made from high-quality urethane material Plan Tech has several ways to produce tight tolerance urethane bar stock or low cast oversized bars. For 30 years we have been building our in-house tooling inventory to be able to produce urethane bar stock up to 10′ feet long, 1′ foot wide and up to 6" inches thick in any hardness or color.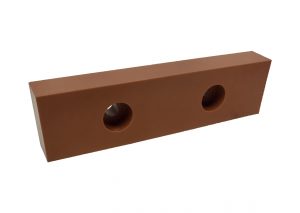 Depending on the application a variety of additives may be added to enhance physical properties of the urethane. FDA urethane requirements are also available in most durometers. Urethane bars have a great ability to absorb an impact and return to its original size even after years of repeated abuse.
Urethane bars in die stamping applications are commonly referred to cutter bars, which can be easily replaced with urethane bar stock for any application. Custom details or profiles for urethane molded parts are available upon request as well. At Plan Tech we have an in-house water jet capable of cutting any profile or hole location for often times less than molded OEM original parts. We can also reverse engineer any urethane bar stock OEM from a sample part or simple sketch.
For over 30 years we have focused on using speed and precision to manufacture the highest quality industrial cast urethane parts to our customers. A particular strength is the breadth of our in-house capabilities which, when combined with our extensive experience, enables us to deliver tight tolerance custom urethane bar stock while maintaining the quality control and cost effectiveness our customers require. The tests are performed according to an established set of standards provided by an accredited testing organization such as the Society for Testing and Materials (ASTM) who define the procedures in detail. In addition to these state of the art technical capabilities, Plan Tech also has an outstanding team of dedicated employees with exceptional talents designing and manufacturing urethane molded parts.
Please Contact us for further details regarding urethane bar stock.