Urethane bearing adapters are among the urethane products manufactured in high volume by us in our fully equipped cast polyurethane facility and in-house custom machine shop. We utilize only the best urethane materials from world-renowned chemical producers to ensure they are of premium quality. We cast the urethane into a mold to make the part and then we have the part machined in our in-house using our state of the art urethane facility which is one of the largest in the United States. To ensure we are capable of meeting the high-volume demand of our numerous customers in record timing without compromising quality, we apply speed and precision for the manufacture of our urethane bearing adapters like it is the case with all our urethane parts and components.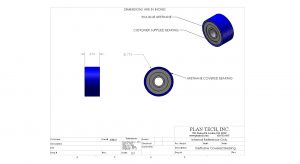 The quality of the physical property of our urethane bearing adapters is second to none in the industry. They offer exceptional wear resistance as well as impressive chemical and abrasion resistance ability. And their load bearing and shock absorbing capabilities are just as excellent as their ability to withstand the harsh environments. Our urethane bearing adapters are non-marking and we have special additives which we can add to them to further improve their efficiency. So, no matter the profile or specification of urethane bearing adapters you require for your application, you can be certain that our engineering team will cast the specific urethane bearing adapter that will meet the requirement of your application.
We stock a large variety of special additives which we add to improve the physical properties of our molded urethane bearing adapters and custom polyurethane parts. All of our molded polyurethane parts possess the ability to return to their original shape after absorbing high impact, and they retain this ability even after they have repeatedly been abused for years. There are many advantages that urethane has vs metal and plastic with our custom molded polyurethane parts! Tight tolerance molded polyurethane parts have been manufactured at Plan Tech for over 30 years!
Please Contact us for further details regarding custom molded urethane bearing adapters!