Urethane bearing covers have been a core product that we have manufactured since 1986. We have specialized in producing hundreds of thousands of urethane bearing covers. Rather than pressing on a bearing cover Plan Tech has found media blasting the OD of each bearing and applying a chemical bonding adhesive is the best way to produce high-performance urethane bearing covers.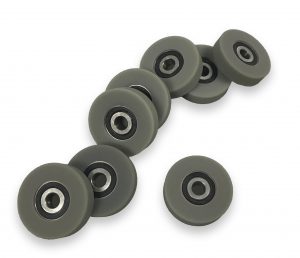 Casting directly to the bearing yields a bond to metal strength greater than the urethane material is it covered in. Over the last 30 years, Plan Tech has streamlined how each bearing is processed and has built many custom one-off trimming machines capable of turning the OD and facing to the bearing in record time and precision.
Using high-performance polyurethane material normally supplied in a 95A hardness Plan Tech can supply millions of urethane bearing covers annually or one-off prototype pieces for a vintage machine. Whether it's one or thousands of urethane bearing covers Plan Tech will work with our customers from the very start of the design right up to high volume. Any design changes can be adapted for quickly and often carry no charge. A variety of lubricants may be added for to the urethane bearing covers for antistatic applications or FDA requirements.
Manufacturing cast urethane bearing covers that effectively incorporate a metallic or non-metallic component requires a superior method for achieving a bond between the urethane and the substrate. Here at Plan Tech, we have developed preparation methods to consistently apply specially formulated urethane adhesives. Our proprietary equipment for cleaning, preparation, automated adhesive spray application and automated drying ensures a consistently high-strength bond between the urethane and the substrate. Over the past three decades, we have adhered cast urethane to millions of parts with an outstanding record of part performance in demanding applications. Some of the materials that we bond to include:
Steel
Aluminum
ABS Plastic
UWMW PE
Fabric
Fiberglass
Bronze
Felt
Please Contact us for further details or to answer your questions.