Looking for high-quality Urethane Bearings? You've come to the right source!
Urethane Bearings are coated with a unique urethane polymer and adhered by our special urethane to metal bonding processing technique's on the urethane bearings outer ring to keep the rotation accuracy. Plan Tech has a variety of ways to manufacture a urethane bearing to your exact specification. Tight tolerance or large urethane bearings are not a problem for us.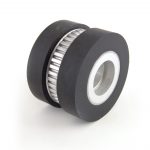 Urethane bearings feature a smooth urethane surface cast directly on precision sealed ball bearings. The poly coated bearings provide quiet, non-marring operation with excellent abrasion resistance and durability. We offer many types of high-quality urethane bearings:
                                                      Urethane Bearings
Poly Covered Bearings: Poly covered bearings are one of Plan Tech's specialty industrial poly covered bearings that we manufacture. Poly covered bearings are available in any thickness up to 12" diameter and can be of any hardness.
Urethane Roller Bearings: Urethane roller bearings are a number one choice material in all high usage conveyor systems and shipping centers. Coated on high-quality urethane roller bearings of your choice, Plan Tech for the last 30 years has specialized in molding any profile needed for the application.
Urethane Covered Bearings: Urethane covered bearings are found in many applications requiring repeated wear and impact. Urethane covered bearings are manufactured to your specifications and often times perform better than OEM replacements at a fraction of the cost.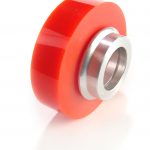 Urethane Molded Bearings: Urethane molded bearings with hub are coated with urethane and adhered by our special processing techniques on the OD. Custom urethane molded bearings feature a smooth urethane surface cast directly on precision sealed ball bearings.
Urethane Bearing Wheels: Urethane bearing wheels are extremely common in shipping centers, conveyor systems and assembly lines. At Plan Tech for the last 30 years, we have specialized in coating custom urethane bearing wheels in both low and high volume. We already have the tooling in-house for any common bearing size resulting in low-cost replacements for existing OEM wheels.
Custom Urethane Bearings
Plan Tech chemically bonds a polyurethane tread to high-quality ball bearings to produce one of the most versatile products.  Since Plan Tech is made in USA we are able to ship poly bearings fast! Our custom and proprietary molded products are found in many industries. Plan Tech makes all of its own molds in-house for speed, accuracy, and precision. We control the entire process from design to manufacturing of custom covered bearings.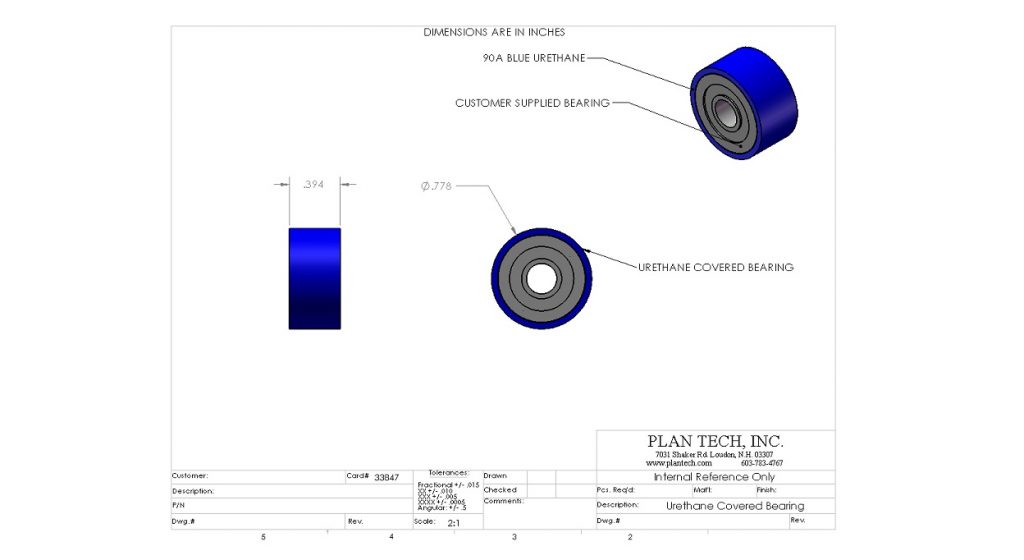 Bearings are offered in two finishes. Turned finishes: Turned finishes with urethane bearings cost less and work well for tolerance requirements in the 0.005″ to 0.010″ range. We also off a Ground finish: Ground finishes with urethane bearings cost more but achieve precise finishes and tolerances in the 0.0005″ to 0.005″ range. Our customers require tight tolerance specifications. We routinely perform tests according to an established set of standards provided by an accredited testing organization such as the Society for Testing and Materials (ASTM) who define the procedures in detail.
Tight Tolerance Urethane Bearings
Please Contact us for further details regarding custom urethane bearings!