Urethane Bearings ? You've come to the right source!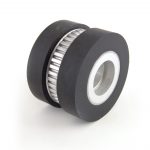 Urethane Bearings are coated with a unique polymer and the urethane bearings are adhered by our special urethane to metal bonding processing technique's on the bearings outer ring to keep the rotation accuracy. Plan Tech has a variety of ways to manufacture thousands of coated bearings to your exact specifications. Tight tolerance or large coated bearings are not a problem for us. Plan Tech's specialty coated bearings feature a smooth urethane surface cast directly on precision sealed ball bearings. The poly coated urethane bearings provide quiet, non-marring operation with excellent abrasion resistance and durability. We offer many types of high-quality urethane rubber coated bearings:
                                 Coated Polyurethane Bearings
Poly Covered Bearings: Poly covered bearings are one of Plan Tech's specialty industrial poly covered bearings that we manufacture. Poly covered bearings are available in any thickness up to 12" diameter and can be of any hardness.
Urethane Load Bearings: Other ways Plan Tech can produce load bearings is by over-molding each bearing and machining a profile into each wheel. For lower-cost rubber load bearings, Plan Tech can also grind and machine cut a tube to produce a tire and press each tire onto the cam follower for low-stress applications. Any hardness or color load bearings are available at Plan Tech with rapid turn around.
Urethane Roller Bearings: Roller bearings are a number one choice material in all high usage conveyor systems and shipping centers. Coated on high-quality urethane roller bearings of your choice, Plan Tech for the last 30 years has specialized in molding any profile needed for the application.
Polyurethane Carrier Bearings: Polyurethane carrier bearings are custom cast in high volume for many different applications. One of our customers that we supply polyurethane carrier bearings to uses them for a drive axle for a large piece of machinery. Plan Tech can mold high volume polyurethane carrier bearings with little to no startup cost in any hardness needed. Tight tolerances are no problem for us and we have a full line of secondary operations available if needed.
  Tight Tolerance Bearings
Urethane Ball Bearings: Soft durometers urethane coated ball bearings are over-molded before being ground on special in-house built grinding equipment at our machine shop. Plan Tech can hold a tight tolerance of +/-.005'' on all surfaces for most urethane coated ball bearings. Most urethane coated ball bearings have little to no start-up cost as Plan Tech has been adding to what we call our family mold system to over-mold ball bearings of any hardness and color.
Urethane Covered Bearings: Covered bearings are found in many applications requiring repeated wear and impact. Covered bearings are manufactured to your specifications and often times perform better than OEM replacements at a fraction of the cost.
Polycoated Bearings: Plan Tech has made many custom rotisserie's to rotate bearings during media blasting and a separate rotisserie station for spraying bonding agent into the bearings. This allows Plan Tech to process poly-coated bearings in high volume, each year we processed millions of poly-coated bearings! Plan Tech purchases its bearings from world leading in bearing manufacturers that are specialized in all types of industrial bearings.
Urethane Molded Bearings: Molded bearings with hub are coated with urethane and adhered by our special processing techniques on the OD. Custom coated bearings feature a smooth urethane surface cast directly on precision sealed ball bearings.
Urethane Bearing Wheels: Urethane bearing wheels are extremely common in shipping centers, conveyor systems and assembly lines. At Plan Tech for the last 30 years, we have specialized in coating custom urethane bearing wheels in both low and high volume. We already have the tooling in-house for any common bearing size resulting in low-cost replacements for existing OEM wheels.
                          Abrasion Resistant Urethane Bearings
Urethane Idler Wheels with Bearings: These are common items in many industrial applications and machinery with unique challenges. Plan Tech specializes in coated idler wheels with bearings for the most demanding applications. While high volume urethane idler wheels with bearings will be molded to size Plan Tech can also machine idler wheels with no tooling cost to start up.
Urethane Bridge Bearings: Plan Tech also offers reverse engineering of bridge bearings of all shapes and sizes. After 30 years in business, we continue to grow our business and will take the time to understand exactly what is expected from our urethane parts. Bridge bearings are intended for extremely heavy loads such has supporting bridges. These bearings are also known as bridge disks.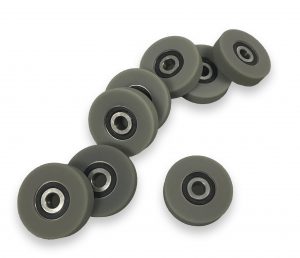 Polyurethane bearings: Coated bearings also known as bearing with a tire offer greater physical properties than rubber and similar materials with the options for any bearings or OD profile. Custom cast at Plan Tech in high or low volume polyurethane bearings are available in any size or color.
Urethane Wheel Bearings: The unique toughness of the bond strength of our coated wheel bearings ensures a delamination free experience, and you can count on us to meet your demand of any urethane wheel bearing parts you may require. We have no problem supplying one piece to 100k pieces of custom-made rims within the shortest possible time frame.
               Custom Covered Bearings
Plan Tech chemically bonds a polyurethane tread to high-quality ball bearings to produce some of the industries most versatile custom covered bearings. Since Plan Tech is made in the USA we are able to ship our coated bearings fast! Our custom and proprietary molded bearings and custom molded urethane parts are found in many industries. Plan Tech makes all of its own coated poly bearings molds in-house for speed, accuracy, and precision. We control the entire process from design to manufacturing of custom molded bearings.
Plan Tech's bearings are offered in two finishes. Turned finishes: Turned finishes with our bearings cost less and work well for tolerance requirements in the 0.005″ to 0.010″ range. We also off a Ground finish: Ground finishes with for our bearings cost more but achieve precise finishes and tolerances in the 0.0005″ to 0.005″ range. Most of our industrial customers require tight tolerance specifications for their specialty coated bearings. We routinely perform tests according to an established set of standards provided by an accredited testing organization such as the Society for Testing and Materials (ASTM) who define the procedures in detail.
                    Tight Tolerance Coated Urethane Bearings
Below are some of the benefits and advantages of poly bearings:
Filling the Gap Between Rubber and Plastic
Poly-coated bearings are outstandingly able to withstand more loads than rubber because they are harder than rubber and yet more flexible than plastics. Their flexibility is accountable for their strength and remarkable ability to resist impact.
Abrasion Resistance
Polyurethanes are the perfect choice for applications against severe wear regardless of low temperature. For some decades now, they have been the most used materials for environments that are highly abrasive owing to their super ability to resist abrasion. No other form of elastomers, metals, and plastics has a better abrasion resistance than polyurethanes. Coated bearings abrasion resistance ability is rated to be 10 times better than what other materials can provide. For enhanced abrasion resistance Inhance Technologies continually advances our unrivaled expertise in transforming commodity and engineering plastics and composites into high-performance materials. At Plan Tech we work with our cutomers in determining if incorporating Inhance Product series particles to the parts to create components that capture the unique benefits of UHMWPE without the processing difficulties posed by virgin UHMWPE. These benefits include superior abrasion resistance, reduced coefficient of friction.
Oil and Chemical Resistance
Like their abrasion resistance ability, the properties of polyurethane materials are highly capable of resisting oil and chemicals. This enables them to maintain stability (with minimal swelling) in water or oil etc. If you are looking for elastomer materials to use in subsea, then polyurethanes should be your ideal choice.
Affordable manufacturing process
Productions such as prototypes as well as one time products or one-off parts are often manufactured using polyurethanes.
Polyurethane Resilience
Resilience is generally a product of hardness. Polyurethanes are the perfect choice for elastomer applications that can absorb shock. Coated bearings have a high vibration frequency or outstanding ability for quick recovery. Their remarkable resilience ensures polyurethanes are very tough materials.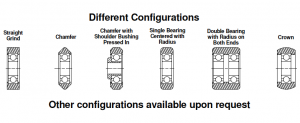 Please Contact us for further details regarding custom coated bearings!