Urethane Belt Scrapers are a critical cast urethane part that Plan Tech manufactures for any application. Many different profiles and shapes are available from OEM catalogs which Plan Tech can reproduce or make custom one off urethane belt scrapers to meet and exceed any required fitment. Urethane belt scrapers are typically located at the exit of a conveyor belt system mounted underneath the shoot. The urethane belt scrapers will be adjusted to just barely drag on the conveyor belt to knock loose any foreign objects like rocks and debris.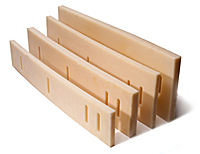 Most urethane belt scrapers will be cast from a sheet and waterjet cut to any needed profiles or if more detail is involved Plan Tech's in house mold making capabilities will accomplish any goal. Plan Tech's team of engineers and sales grew will learn each and every application and is available to help recommend the correct material and hardness for any job.
High abuse urethane belt scrapers are also very common and require a steel core to be molded inside the scraper. Any bolt location spacing or thru hole configuration is available. Plan Tech can also supply any color or hardness for many different urethane scrapers and conveyor material processing applications. We also stock many different additives to enhance abrasion resistance while adding lubricity to the urethane material to help keep debris from sticking to the urethane.
Whether you are a start up company or global leader, we can add value to your products with our strong engineering support and constant focus on meeting all delivery requirements. Our rapid prototyping capabilities have also received particularly positive feedback – we frequently go from "Print to Part" in 10-15 business days! Everything we manufacture is MADE IN THE USA. Plan Tech also has an outstanding team of dedicated employees with exceptional talents designing and manufacturing urethane belt scrapers.  We also are very proud of the "company we keep." Our customers include many Fortune 500 companies, most of whom have been customers for 20+ years. Their drive to become industry leaders has helped us do the same.
Please Contact us for further details regarding urethane belt scrapers.