Urethane blade clamps are one of the urethane products that are manufactured with high level of precision and the ones produced by our team of top-class engineers are made with speed and accuracy. We utilize only urethane materials from globally renowned chemical producers, and that ensures they are of premium quality. Plan Tech's urethane blade clamps offer excellent wear resistance as well as impressive ability to resist abrasion, corrosion, and chemicals. Our urethane blade clamps are also renowned for their outstanding ability to withstand harsh environment and maintain their top performance even after years of usage.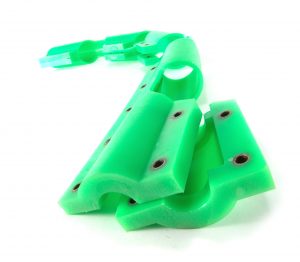 We machine our custom cast urethane blade clamps using the state of the art urethane facility in our world-class in-house shop. Our engineers leave no stone unturned in ensuring the manufactured urethane blade clamps are of world-class standard. So, in spite of what the requirements of your application are, our team of engineers has the technical prowess to cast urethane blade clamps that will meet your demands. Therefore, you can depend on our highly talented team of engineers to correctly handle your urethane blade clamps project from design to the product. With our over 30 years' experience in manufacturing top-grade urethane products including polyurethane blade clamps, you can consider us the go-to company where all urethane needs are met.
Machining cast urethane parts require specialized equipment and training. Here at Plan Tech we utilize 3D CAD Design Software Solidworks and make all of our own molds in-house for speed, accuracy and precision. We control the entire process from design to manufacture. Custom mold making is at the very core of what we do. We create complex molds for our in-house use as well as many of the components that are molded into customer products. Molds are machined from aluminum or tool steel depending upon tool life requirements. The inserts and cores that we manufacture for molded polyurethane parts are made from a wide variety of metals and plastics including UHMW PE, ABS, aluminum and steel.
Please Contact us for further details regarding custom molded polyurethane parts!