Urethane boat bumpers are exposed to temperature extremities, and that's why we only cast our boat bumpers from traditional urethane materials that are capable of withstanding any environment. You can trust our urethane boat bumpers for applications in saltwater, and our first-grade quality urethane ensures our boat bumpers don't absorb water. It would, therefore, not be wrong to say that our urethane boat bumpers offer high-performance ability and the fact our urethanes are non-marking means you needn't worry about the side of the boat being marked by the bumper.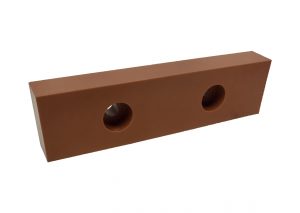 We typically cast our polyurethane boat bumpers from a 60A, and that gives them a hardness that guarantees maximum efficiency. We are renowned for producing a ball-shaped urethane boat bumpers that have a through hole for the attachment of a rope or chain as well as bolts. With a state of the art in-house machine shop and our highly skilled technicians, we can manufacture custom urethane boat bumpers in different shapes, colors, and sizes that will meet the requirements of any application. We add a UV stabilizer to every one of our urethane boat bumpers to improve their color retention and service life. The ability of our engineering team to custom make high-quality urethane parts from your simple idea, sketch or CAD file is second to none, and you can trust our urethane parts for excellent service life and top performance ability.
Waterjet cut urethane parts are just one of the many cast urethane services that Plan Tech provides. We utilize a "state of the art" Flow Waterjet 4′ x 8′ Integrated Flying Bridge waterjet cutting machine. The dynamic head virtually eliminates the taper normally associated with waterjet cut urethane parts while improving cutting speeds, part accuracy and tolerances in cutting flat stock materials.
Our capabilities include:
Taper elimination by Active Tolerance Control
Versatility – cut with water only or abrasive
Secondary finishing elimination
Part tolerance and geometry improvement
True part stacking ability with consistent tolerance layer to layer
Vacuum assist technology for carbon fiber and other laminates
Please Contact us for further details about urethane boat bumpers!