Urethane bridge bearings are intended for extremely heavy loads such has supporting bridges. These bearings are also known as bridge disks. Plan Tech supplies thousands of urethane bridge bearing disks around the world each year for the most extreme applications.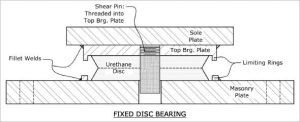 Our urethane material is purchased from world chemical leaders and is rated for all weather climates and temperatures. We also have special formulas that are more resistant to chemicals and flame retardant material is also available. Plan Tech also offers reverse engineering of urethane bridge bearings of all shapes and sizes. After 30 years in business, we continue to grow our business and will take the time to understand exactly what is expected from our urethane parts. Plan Tech can also help run formulations of how thick and the diameter needs to be for maximum service life vs the load to be applied.
Urethane is an ideal choice due to its great ability to absorb an impact and return to its original size even after years of abuse. Urethane also will absorb vibrations and damped sounds from traveling through the rest of the bridge. Allowing urethane to take the abuse adds years of service to infrastructure and supporting beams. Urethane bridge bearings are available in all hardness and colors.
Plan Tech manufactures the highest quality industrial custom cast urethane parts such as urethane bridge bearings to our customers. A particular strength is the breadth of our in-house capabilities such as grinding urethane parts which, when combined with our extensive experience, enables us to deliver tight tolerance urethane bridge bearings while maintaining the quality control and cost effectiveness our customers require. The tests are performed according to an established set of standards provided by an accredited testing organization such as the Society for Testing and Materials (ASTM) who define the procedures in detail.
Please Contact us for further details or to answer your questions about urethane bridge bearings!