Urethane Bump Stops are a block of urethane with a core for easy bolt on application. Urethane bump stops will absorb an impact and return to its original shape even after years of repeated abuse making urethane the number one choice. Custom profiles of urethane bump stops are no problem for us!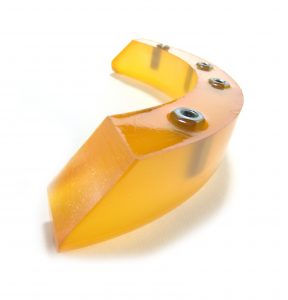 Plan Tech's cast urethane bump stops have excellent abrasion resistance, wear and bond strength due to our ability to tailor the material to include additives that will increase wear and add lubricity to keep parts from sticking. The major advantages of the urethane bump stops include high load-carrying capability, high dielectric strength and non-magnetic with protection against marring/galling with a long life while still offering abrasion resistance. Urethane is also resistant to most oil and solvent and will help dampen vibration or shock.
Plan Tech also has the ability to fabricate any core required that will be media blasted and chemically bonded in our clean rooms before it is molded into the mating parts of the bump stops. At Plan Tech we have a full in-house machine shop ready to take on any custom profile's needed for the urethane bump stops. From prototype pieces to production Plan Tech delivers high-quality industrial urethane components. Whether you are a start-up company or global leader, we can add value to your products with our strong engineering support, material selection expertise and constant focus on meeting all delivery requirements. Our rapid prototyping capabilities have also received particularly positive feedback. We frequently go from "Print to Part" in 10-15 business days. This capability allows our customers to rapidly develop new products and meet the ever-increasing requirements for speed in the marketplace. Plan Tech processes polyurethane in a wide range of chemistries including dedicated TDI and MDI production cells. The engineering staff has the experience and knowledge to select or tailor a urethane chemistry to your requirements. Everything we manufacture is MADE IN THE USA.
Please Contact us for further details regarding custom cast urethane bump stops!