Urethane cable blocks are molded to accept various types of cables. Custom tooling for any profile or application can be created in Plan Tech's state of the art machine shop. On average urethane cable blocks will outperform rubber 4 to 1 making urethane the #1 choice for all high demand applications.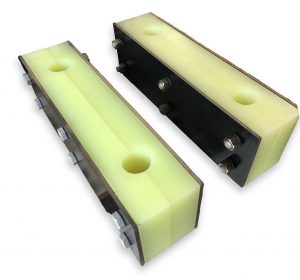 Machining cast urethane cable blocks and polyurethane parts requires specialized equipment and training. Here at Plan Tech, we make all of our own molds in-house for speed, accuracy, and precision. We control the entire process from design to manufacturing. Mold making is at the very core of what we do. Our machine shop includes CNC Lathes, Mills and Grinders for machining cast urethane parts. We also have manual mills as well as a sheet metal and welding area. We have a Flow Waterjet with 48×96 inch sheet capabilities and can cut a list of materials like Polyurethane, Steel, Stainless Steel, Aluminum, Carbon fiber, and most plastics. We create complex molds for our in-house use as well as many of the components that are molded into customer products. Urethane cable blocks are custom cast from a high-quality material suitable for all different types of applications and working conditions. A variety of different additives can tailor our urethane material to have different physical properties to increase abrasion resistance or aid with lubricity as the material wears on the urethane cable blocks.
For over 30 years we have focused on using speed and precision to manufacture the highest quality industrial urethane cable blocks and cast urethane parts to our customers. A particular strength is the breadth of our in-house capabilities such as grinding urethane parts which, when combined with our extensive experience, enables us to deliver tight tolerance custom urethane parts while maintaining the quality control and cost effectiveness our customers require. The tests are performed according to an established set of standards provided by an accredited testing organization such as the Society for Testing and Materials (ASTM) who define the procedures in detail.
Please Contact us for further details or to answer your questions about cast urethane cable blocks!