Urethane cable parts from Plan Tech come in a variety of configurations. Our urethane cable parts allow for greater chemical, oil and corrosion resistance. The urethane cable parts manufactured by our team of specialized engineers are also durable and used in tough, demanding applications. They work in environments with high temperature as well as high-voltage applications. They can also withstand harsh treatment such as abrasion, and contact with flames.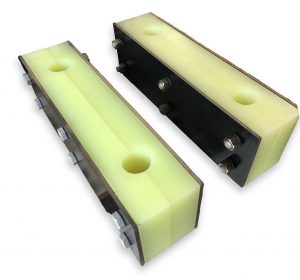 Whether you want your cable flexible, sturdy, colorful or stranded, we've got you covered. With our in-house fabricating department and state of the art facility, we can keep the manufacturing cost to a minimum giving us the ability to offer a much more cost-effective solution. Our urethane cable parts are designed for a good number of applications including industrial robotics, automated handling equipment, power generation, seaport cranes, machine tools, petrochemical and natural gas production, etc.
Having passed stringent tests and proven outstanding in several applications, our urethane cable parts provide cost-effective operation of machinery requiring long service in harsh environments. When it comes to cable products, our urethane cable parts have proven to be the best against chemicals such as acids, alkalines, solvents, and other hydraulic liquids. Below are some of the benefits and advantages of polyurethane:
Filling the Gap Between Rubber and Plastic
Polyurethanes are outstandingly able to withstand more loads than rubber because they are harder than rubber and yet more flexible than plastics. Their flexibility is accountable for their strength and remarkable ability to resist impact.
Abrasion Resistance
Polyurethanes are the perfect choice for applications against severe wear regardless of low temperature. For some decades now, they have been the most used materials for environments that are highly abrasive owing to their super ability to resist abrasion. No other form of elastomers, metals, and plastics has a better abrasion resistance than polyurethanes. Their abrasion resistance ability is rated to be 10 times better than what other materials can provide.
Oil and Chemical Resistance
Like their abrasion resistance ability, the properties of polyurethane materials are highly capable of resisting oil and chemicals. This enables them to maintain stability (with minimal swelling) in water or oil etc. If you are looking for elastomer materials to use in subsea, then polyurethanes should be your ideal choice.
Please Contact us for further details or to answer your questions about cast urethane cable parts!