Urethane cable separator blocks are custom cast to any profile or separator distance for aircraft cable in high abuse applications in any environment. Urethane cable separator blocks can withstand immense forces while our performing rubber 4:1. Our application of speed and precision ensures we are not only among the high-volume producers of the product in the industry but also one of the best manufacturers of standard and custom urethane blocks in the world.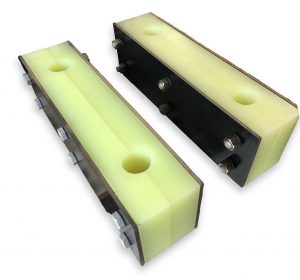 Our urethane cable separator blocks are available in different colors, shape, and durometers. The technically gifted team of engineers at Plan Tech are more capable of custom making polyurethane cable block separators that meet the requirement of any application. So, if you have tried others without success, you can rest assured you will find your desired urethane blocks from our line of first-rate urethane molded parts that boast high-performance ability and long service life.
Our urethane cable separator blocks offer impressive ability to resist abrasion, corrosion, and chemicals and they are also capable of withstanding environments with harsh conditions. We cast the urethane into a mold to make the part, and we machine the urethane in our machine shop using our urethane facility that is one of the largest in America to ensure that the molded urethane parts that we manufacture are of unbeatable quality. For over 3o years, we have been manufacturing only the best in quality urethane cable separator blocks using speed and precision to maintain consistency in quality and that the product in high volume at a fast turnaround. We also are very proud of the "company we keep." Our customers include many Fortune 500 companies, most of whom have been customers for 20+ years. Their drive to become industry leaders has helped us do the same.
Please Contact us for further details or to answer your questions about cast urethane cable separator blocks!