Urethane cable stop blocks are custom cast for any size or application. Most common urethane cable stop blocks are produced from low-cost urethane tooling to provide a finished part with all the required profiles molded for a low-cost replacement cable stop block custom cast from high-quality material.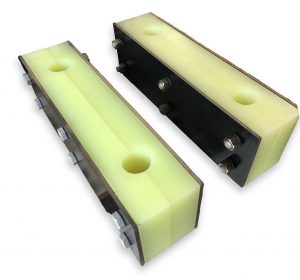 Plan Tech uses material suitable for saltwater and outdoor applications. We also boast one of the best engineering departments in the industry with a team of engineers whose unique technical abilities as well as our application of speed and precision allow us to maintain our high level of quality production at a very fast rate. We offer urethane cable stop blocks in different colors or durometer and profiles, shape or hardness is not a challenge to us because we possess the technical know-how to custom make urethane cable stop blocks to meet any specification. Therefore, you can be sure of finding your desired urethane cable stop blocks from our standard line of molded urethane blocks and we also have special additives which can be added on request to enhance physical properties like wear resistance, ability to reduce static build-up and improve lubricity.
Molded urethane cable stop blocks are manufactured in our in-house cast polyurethane facility and customized at our in-house machine shop. They are one of our specialty cast urethane parts. We have produced custom urethane blocks for over 30 years, and with our experience, you can count us to meet your demands with accuracy. Our facilities are of world-class standard, and we boast a team of engineers who have the exceptional technical know-how to produce polyurethane blocks of any profile. Whether you are a start-up company or global leader, we can add value to your products with our strong engineering support, urethane application support and constant focus on meeting all delivery requirements. Our rapid prototyping capabilities have also received particularly positive feedback – we frequently go from "Print to Part" in 10-15 business days! Everything we manufacture is MADE IN THE USA!
Please Contact us for further details or to answer your questions about cast urethane cable stop blocks!