Urethane car wash wheels make wheel washing a breeze. As one of our high-quality products, they are designed to be gentle on the paint or surface of your wheels, while easily applying wheel cleaners and/or brake dust removers. Our urethane car wash wheels are made from a broad selection of urethane material that meets or exceeds OEM specifications. Depending on customer's specification our urethane car wash wheels are designed to prevent cutting, tearing, and marring of surfaces.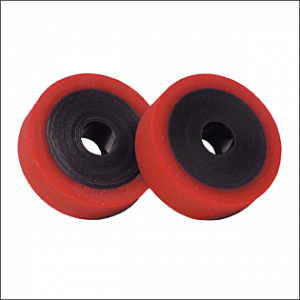 Plan Tech's urethane car wash wheels offer excellent performance in extreme atmospheres due to our unique urethane materials used during production. This gives them outstanding resistance to oxidation, oil, and most solvents or chemicals, they are hard, tough-yet resilient and can withstand abuse. All these make them one of the best the industry has to offer and our urethane car wash wheels offers hundreds of more hours of service life, cutting downtime to a minimum. To ease production from start to finish, our urethane car wash wheels are designed in-house, and rapid prototyping is available. Our customers also have the flexibility of having their parts cast to custom size, die-cut, or machine finished. We have a wide range of proven urethane car wash wheels, and we have the ability to design and formulate compounds to meet the specific needs of our customer's projects.
If you're specifying a new industrial wear part and are deciding between materials, here are some reasons why you should specify cast urethane car wash wheels and custom polyurethane parts:
1. Urethane parts can be shaped accurately
No matter what shape you want your cast urethane parts to be, we can design them for your application by using extreme precision. We can create any custom cast urethane part that's up to 30 inches long with a tight tolerance of error in the process. You'll get a cast urethane part that is exactly as your project requires.
2. Urethane parts can be produced at a fast speed
Most custom cast urethane parts can be molded and shipped within just a couple of weeks. Oftentimes, they can arrive much faster. Producing urethane parts is pretty straightforward and can be done on a short timeline. If lead times are important, consider specifying cast urethane parts.
No matter what your intended use is for the finished cast urethane parts, they are sure to make your projects a lot easier and that much more refined. Custom made cast urethane parts are the way to go – no matter if you're an established business or somebody starting out.
Please Contact us for further details about cast Urethane Car Wash Wheels!