Urethane carriage rollers are extremely common in many different profiles to match the riding or "carriage" surface track. Any hardness or color is available but 95A is recommended for most applications due to its nature to absorb an impact and return to its original size resulting in a smooth and quiet operation. Being 95A urethane material it will machine easily into almost any profile while holding extremely tight tolerances.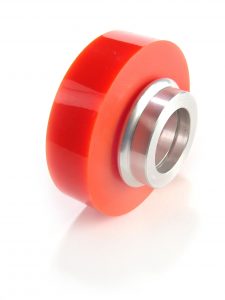 Plan Tech processes high-quality Ether based prepolymers from world leading chemical companies. The polyurethane is suitable for any wet or humid environments. For high strength applications, a steel or stainless steel core added into the design. Each core for the urethane carriage rollers will be made at our state of the art machine shop.
Plan Tech can supply 1 or thousands of urethane carriage rollers of just about any size. Each high strength core will be media blasted before a light coat of bonding adhesive is applied to the core in our. Each and every urethane carriage rollers are hand cast, sometimes if the profile allows molded rollers we will cast each part complete resulting in a low-cost replacement that often times exceeds OEM physical properties.  Plan Tech's team of engineers can reverse engineer existing urethane carriage rollers from a sample part or a simple sketch. Prototype engineering producing parts are available in most times less than 3 weeks!
Manufacturing urethane carriage rollers that effectively incorporate a metallic or non-metallic component requires a superior method for achieving a bond between the urethane and the substrate. Here at Plan Tech, we have developed preparation methods to consistently apply specially formulated urethane adhesives. Our proprietary equipment for cleaning, preparation, automated adhesive spray application and automated drying ensures a consistently high strength bond between the urethane carriage rollers and the substrate.
Over the past three decades, we have adhered cast urethane to millions of parts with an outstanding record of part performance in demanding applications. Some of the materials that we bond to include:
Steel
Aluminum
ABS Plastic
UWMW PE
Fabric
Fiberglass
Bronze
Felt
Please Contact us for further details regarding urethane carriage rollers.