When working on any industries, there are many classifier pasts you will need. All these classifier parts are easy to use as well as easy to handle. You can also get it in a very affordable range. Gone are the days when people used to choose any classifier parts. Nowadays, when it comes to industry level usage, people always choose to go with Urethane classifier parts. There are many Urethane classifier parts that you will need. Below given are some of the most popular and most used Urethane classifier parts.
Classifier shoes
Among all the Urethane classifier parts, classifier shoes are the highest volume parts. To extend the overall wear life of the classifier shoes, we use urethane to make sure that I last longer. When you choose such kind of classifier shoes, the overall durability will increase and hence you will save some money here. The overall operating costs are also very less. All these combined will result in high productivity. Moreover, urethane has various other advantages that you will get here such as tensile strength, hardness, etc. This is the main reason why you should go with urethane classifier shoes.
Downcomer spouts
When it comes to the next product, downcomer spouts our next product. Just like shoes, it is used in various industries. The main reason why people have started shifting to Urethane downcomer spouts is because of precision. Urethane downcomer has a high-level pf precision level as compared to the normal one. Therefore, you can go with that particular one. Not to mention, Plantech makes sure that all the parts are crafted with the best quality of raw components. In this way, the final result that we get is always outstanding and above the customer's expectations.
Valve Seats and Seals
The next Urethane classifier parts are seats and seals for valves. Valve seats and seals work under a high level of pressure. The only thing that you need to keep in mind over here is that you need to get a perfect size. Some of the valve seats and seals will not be fitted in the same position. This will cause leakage in the valve. Therefore, it is necessary to keep in mind the position as well as the orientation of the seats and seals. In this way, you will have a lesser chance of having a leak. Our products are made to handle a high level of pressure.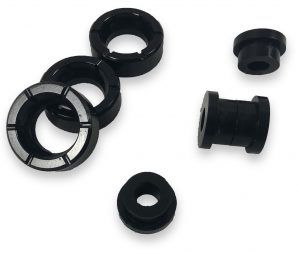 Along with all of these classifier parts, there are may other rubber classifier parts that we provide. You can surely contact us with your full requirements and we will revert you back with the full quote. Moreover, if you need any customizations with any of the given things, we can do it for you. Mention us the size details or any particular design that you want. In this way, we can suggest you the best pricing. Feel free to contact us whenever you want any of the Urethane classifier parts. We will give you the full quotation.
Are you interested in Urethane Classifier Parts? Please Contact us so we can help solve your requirements and work with you on your specific application!