Urethane clipper rollers are one of our many specialty products manufactured in our in-house machine shop using our state-of-the-art cast polyurethane facilities. Our urethane clipper rollers are produced with speed and precision. Quality control is built into every step of the manufacturing process to ensure flawless urethane clipper rollers. During production, we carefully consider the application of the urethane clipper rollers in order to determine its compound and/or hardness. We grind and/or polish the urethane clipper rollers to your specified dimensions and finish. Finally, the urethane clipper rollers undergo a detailed inspection before it is wrapped and shipped to you. Its dimension, durometer, journal integrity, and covering are examined for specifications conformity.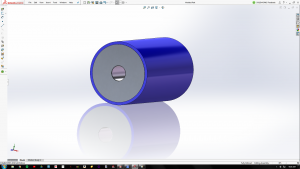 There are many advantages to selecting Plan Tech urethane clipper rollers. Our success in manufacturing quality wear-resistant urethane clipper rollers is accomplished by combining dynamic performance with cut and abrasion resistance. We have a wide range of proven urethane clipper rollers, and we also have the ability to formulate compounds and create designs that will meet the specific needs of our customer's projects.
Our team of technicians can help you design a new polyurethane clipper rollers revise an existing one, or develop clipper rollers to replace an existing one made from metal or other types of plastic.
If you're specifying a new industrial wear part and are deciding between materials, here are some reasons why you should specify urethane clipper rollers or custom cast polyurethane parts:
1. Urethane parts can be shaped accurately
No matter what shape you want your cast urethane parts to be, we can design them for your application by using extreme precision. We can create any custom cast urethane part that's up to 30 inches long with a tight tolerance of error in the process. You'll get a cast urethane part that is exactly as your project requires.
2. Several different finishing options to choose from
One important factor about cast urethane parts is that the composition of the parts can easily be manipulated. You can choose whether you want an end product that is rigid, flexible or something that is even similar to rubber with a gummy texture. Our cast urethane parts are even able to be customized by color and additional add-ons (cores/hardware). While black cast urethane parts are the norm, we can make them white, blue, yellow, safety orange, green, etc. Additionally, you can choose whether you want the finishing to be smooth, shiny, or even a custom finish.

3. Urethane parts can be produced at a fast speed
Most custom cast urethane parts can be molded and shipped within just a couple of weeks. Oftentimes, they can arrive much faster. Producing urethane parts is pretty straightforward and can be done on a short timeline. If lead times are important, consider specifying cast urethane parts.
No matter what your intended use is for the finished cast urethane parts, they are sure to make your projects a lot easier and that much more refined.
Please Contact us for further details about cast urethane parts!