Urethane coated ball bearings have been a specialty product manufactured by Plan Tech for 30+ years. Available in any hardness with 95A being the most common go-to choice for maximum service life and vibration control. Plan Tech has built several custom high-speed trim machines capable of cutting 95A urethane coated ball bearings wheels in high volume. We manufactured millions of urethane coated ball bearings of all different profiles!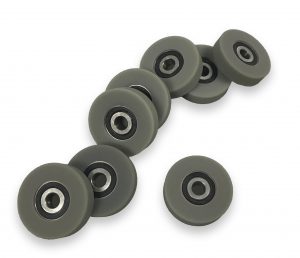 Plan Tech also molds custom profiles to match any track requirements in high volume. After we receive the bearings from world-class manufacturers bearing manufacturers we will stack all the bearings on drill rod and media blast the OD of each bearing on custom made rotisseries before applying a bonding agent direct to each bearing. We are capable of casting urethane coated ball bearings of just about any size or configuration.
Soft durometers urethane ball bearings are over-molded before being ground on special in-house built grinding equipment at our machine shop. Plan Tech can hold a tight tolerance of +/-.005'' on all surfaces for most urethane coated ball bearings. Most urethane coated ball bearings have little to no start-up cost as Plan Tech has been adding to what we call our family mold system to over-mold ball bearings of any hardness and color. We can also reverse engineer existing OEM wheels to provide a custom wheel tailored to any specification.
Whether you are a start-up company or global leader, we can add value to your products with our strong engineering support, urethane polymer experience and constant focus on meeting all delivery requirements. Our rapid prototyping capabilities have also received particularly positive feedback – we frequently go from "Print to Part" in 10-15 business days!
Everything we manufacture is MADE IN THE USA. We also are very proud of the "company we keep." Our customers include many Fortune 500 companies, most of whom have been customers for 20+ years. Their drive to become industry leaders has helped us do the same.
Please Contact us for further details regarding precision urethane coated ball bearings!