Urethane coated bolts are extensively used for agricultural purposes like in agricultural industries, tractors etc. In addition to this application rubber-coated bolts are also used for weighing. Usually, a variety of industrial applications use them for weighing as they have to weigh the material on large scales.
Plan Tech provides coated bolts having a coating of urethane. These bolts serve as durable fasteners which provide an abrasion-resistant surface. These bolts are uninterrupted as well. In most applications, no surface preparation is needed as these bolts when required can be FDA Dry approved and they also have incredible holding power.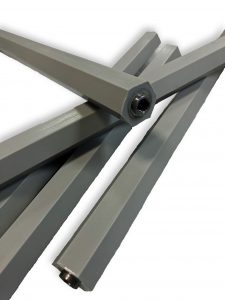 Other uses of these urethane-coated bolts are used as adjusting glides and leveling feet for the weighing scale. They are also used as workpiece positioning and stopper use. Urethane pad is fitted in it which is responsible to absorb shocks that prevent the instrument from damage or loss.
Urethane coating for metals like iron is consists of thin-film with weathering performance properties. It means it performs well in unexpected weather. It has exceptional gloss finish as well which enhances its looks. This coating is basically responsible for supreme resistance to corrosion as it is highly resistant. Chemical exposure and abrasion are also their properties which is very important in industrial markets for long-lasting life of instrument so is found in high competition.
These anti-vibration mounts or leveling feet are made up of stainless steel or carbon steel or zinc plate having urethane base coating with anti-static characteristics that remain rotate the instrument all the time. As some of the instruments can have resistance due to which they can not perform well when they are required. They are available in more than thirty ( 30 ) colors as well as custom pigments. The leveling mount has SS nuts as well as washers.
Are you interested in Urethane Coated Bolts? Please Contact us so we can help solve your requirements and work with you on your specific application!