Urethane coil storage pads are specifically made for the handling and storage of coil inventories. During metal coil processing every point at which the finished surface of the material comes in contact with another surface is an opportunity to damage the material. What this means is that coil processors are required to pay extra attention to their processes in order to avoid scratching the finished surfaces.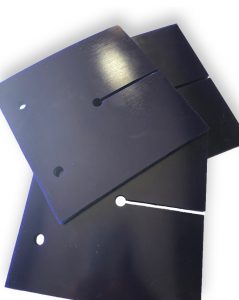 With our urethane coil storage pads, you can prevent damage to your metal coil. Our urethane coil pads offer the best cushioning on the market and can help reduce the cost of waste and damage. At Plan Tech, we have a wide range of urethane coil storage pads, and they are all manufactured to international standards.
You can now protect the surface of critical metals with high-performance urethane coil storage pads. With proper installation and use, coil handling protection safeguards against product/surface damage and can help reduce waste to the bare minimum.
We employ a team of dedicated, experienced engineers, chemists, and sales personnel to assist you in the development of your project from inception to completion. Also, our in-house capabilities help in the reduction of production time from receipt of order to final delivery, and we use advanced technologies to ensure your order meets all critical dimensions. Polyurethane is very similar to a rubber or plastic. Unlike nylon or UHMW, urethane can be compounded to produce very soft parts, as low as 30A Durometer, or up to very hard, 75D Durometer. Polyurethane is ideal in high demand applications were normal rubber would fail. There are many advantages to polyurethane resins. They are known for their chemical, oil, and grease resistance, and are typically excellent at resisting abrasion and, as such, are not easily torn. This can explain why they are often used to produce synthetic rubbers. Here are a few Polyurethane suppliers:
Covestro AG: Covestro is a global leader in cast polyurethane solutions. We make the world a brighter place through innovation that benefits society. From material systems to machine technologies to proven cast polyurethane elastomers, Covestro has the expertise to support our customers with high-quality products, reliable service and innovative solutions.
Huntsman Corporation: We serve a broad and diverse range of consumer and industrial end markets, including: transportation, home life, construction, energy and fuels, and clothing and footwear. Huntsman Corporation develops products that address customers' needs and help provide solutions to some of the world's greatest challenges.
Are you interested in Urethane Coil Storage Pads? Please Contact us so we can help solve your requirements and work with you on your specific application!