Urethane compression springs will sit inside a machine and compress when the machine is operated to stamp or eject the desired shape. When the machine retracts the urethane compression springs will "spring" back to its original size reducing the risk of the operator being hurt. Urethane compression springs have been proven to be one of the safest, most efficient and reliable compression material for punching, stamping, and drawing dies.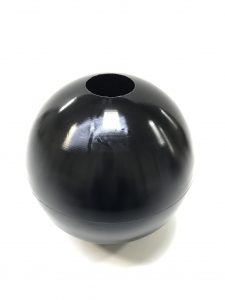 While some compression springs will sit over an ID other compression springs will be made from solid urethane and sit inside a pocket. Urethane compression springs are typically supplied in a range of durometers for the application. We can also reverse engineer your existing urethane compression springs to match OEM specs often times for less than OEM replacements!  Polyurethane compression springs will also dampen the vibration and shock of the machine or load applied. On average urethane will outperform rubber 3 to 1 making urethane an ideal choice. Often times we can add additives that will increase abrasion resistance and add lubricity to keep products from sticking.
An Anti-static additive is also common to reduce any static build up from sliding fraction. Our engineering department can turn your idea, sketch, drawing or CAD file into custom urethane parts. We will reverse engineer to recreate any urethane part for production or one-off urethane pieces. The engineering department uses SolidWorks and our machine shop uses CamWorks for 3 axis milling. Our equipment includes CNC mills, lathes, polyurethane grinders as well as a state of the art urethane waterjet cutting machine. Secondary equipment includes sheet metal, welding, grinding, automated cutoff, broaching and more. We offer complete manufacturing capability for the inserts or cores required for your parts and provide one-stop shopping for all of your custom cast polyurethane products.
Please Contact us for further details regarding urethane compression springs!