Urethane conical drain plugs are manufactured by us in high volume and are open cast with fast tooling startup. We are renowned in the industry for being one of the biggest producers of urethane conical drain plugs. The urethane conical drain plugs that we manufacture are of top-notch quality, and we have them cast in various sizes for different applications such as bolt-on applications with mounting plate or molded bolt. The pattern employed by our in-house machine shop engineers for the production of our polyurethane conical drain plugs is "classic."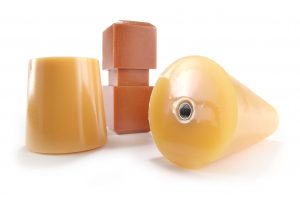 And the competence of our top-class technicians coupled with our state of the art machine shop makes it possible for us to produce thousands of polyurethane conical drain plugs from a cast of hundreds of urethane molds. In addition to being cast in different sizes, our urethane conical drain plugs are also available in different hardness and colors to suit a variety of applications. The service life and performance ability of our products are world-class, but still, we have a variety of special additives to boost their physical properties further. Our use of a "state of the art" Flow Water jet 4′ x 8′ Integrated Flying Bridge waterjet cutting machine sets our urethane conical drain plugs apart from those of other brands in the industry.
For over 30 years we have focused on using speed and precision to manufacture the highest quality industrial cast urethane conical drain plugs and custom urethane parts to our customers. A particular strength is the breadth of our in-house capabilities such as grinding urethane parts which, when combined with our extensive experience, enables us to deliver tight tolerance cast urethane parts and components while maintaining the quality control and cost effectiveness our customers require. The tests are performed according to an established set of standards provided by an accredited testing organization such as the Society for Testing and Materials (ASTM) who define the procedures in detail.
Please Contact us for further details or to answer your molded urethane conical drain plugs design questions!