Urethane control arm bushings also know as "A-arm bushings" are installed in the steel rod that connects the hub to the vehicle. Made from a superior high-quality urethane prepolymer the urethane control arm bushings will last for many years and outperform rubber bushings 3:1.
Plan Tech specializes in high volume urethane control arm bushings with prototype and lower volume parts also. Not only do just motor vehicles have control arm bushings as we have seen a huge demand in robot vehicles requiring special one-off custom size urethane control arm bushings. Most commonly the urethane will be bonded to a steel core for added strength and bolt on applications. Each steel core will be custom-made in-house at our machine shop before it is processed in our clean room before a bonding adhesive is applied directly to the core. Casting onto this surface allows us to mold urethane control arm bushings complete with no secondary process required and is ideal for high volume.
Plan Tech also has many additives for changing the physical properties of the urethane for more lubricity or added tear resistance. Overall polyurethane is an ideal choice when searching for urethane control arm bushings due to its ability to absorb an impact and quickly return to its original shape even after years of abuse in any environment.
Manufacturing urethane control arm bushings that effectively incorporate a metallic or non-metallic component requires a superior method for achieving a bond between the urethane and the substrate. Here at Plan Tech, we have developed preparation methods to consistently apply specially formulated urethane adhesives. Our proprietary equipment for cleaning, preparation, automated adhesive spray application and automated drying ensures a consistently high-strength bond between the urethane and the substrate. Over the past three decades, we have adhered cast urethane to millions of parts with an outstanding record of part performance in demanding applications.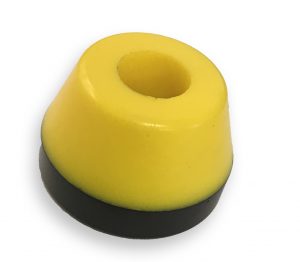 Please Contact us for further details regarding Urethane Bushings.