Urethane conveyor belt skirting manufactured at Plan Tech are made of extremely tough polyurethane formulations. The physical properties of the urethane conveyor skirting we manufacture offer unbeatable quality that makes them second to none on the market.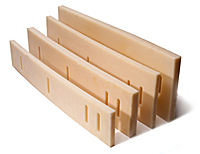 Used as a sealing strip on conveyor system loading, urethane conveyor belt skirting helps to transfer and discharge points to direct material onto the conveyor belt and also helps reduce spillage. Our polyurethane conveyor belt skirting is designed not just to reduce spillage but to also lower dust emissions, and decrease belt damage. Under extremely tough resistant to abrasion, chemicals, tears, cuts, and impact, our rubber conveyor belt skirting lasts an average of 3-5 times longer than rubber skirt equivalents. They are ideal for mining, foundries, aggregate and all lighter duty industries as well.
Our urethane conveyor belt skirting are renowned for their excellent performance ability which allows them to maintain their optimal efficiency even after long service years. Also, it doesn't matter what the conditions of the environment of application is, our urethane conveyor skirting have been tested and proven to be able to withstand the unfavorable environment as well as extreme weather conditions.
Our urethane belt skirting can be relied upon for a variety of applications such as the single direction belts, old or new belts, and the mechanically spliced systems, etc. Polyurethane is a name synonymous with versatility. The mechanical properties of polyurethane unique elastomer can be manipulated and separated through polymeric creativity making problem-solving easy with a high-performance ability that is second to none. The benefits and advantages of this material are limitless.
Below are some of the benefits and advantages of polyurethane:
Oil and Chemical Resistance
Like their abrasion resistance ability, the properties of polyurethane materials are highly capable of resisting oil and chemicals. This enables them to maintain stability (with minimal swelling) in water or oil etc. If you are looking for elastomer materials to use in subsea, then polyurethanes should be your ideal choice.
Are you interested in cast urethane conveyor belt skirting? Please Contact us so we can help solve your requirements and work with you on your specific application!