Urethane conveyor belt wipers are a vital product that finds application in most conveyor belt systems that are processing various types of materials. Rubber conveyor belt wipers are available at Plan Tech in different configurations and are made from first-rate urethane materials that are manufactured by globally recognized chemical companies which makes ours offer superior physical properties than those of most other brands you will find on the market.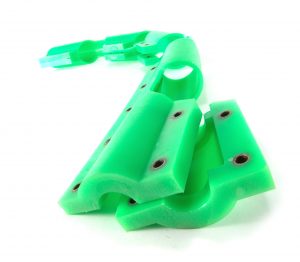 The fact is, no other urethane conveyor belt wipers can better eliminate most debris such as gravel, stone, rock, sand as well as other materials that undergo processing on conveyors. Our rubber conveyor belt wipers are designed to allow for easy installation, making our wipers the ideal product for your conveyor belt. Also, our highly skilled and experienced team of engineers can not only have your existing rubber conveyor belt wipers replaced but can also match your already installed OEM wipers at a lesser cost than actual replacements.
While it is true that the typical hardness for conveyor belt wipers is 80A, our skilled technicians can have them customized in durometers that meet the exact or specific requirements of your application. So, bring your current conveyor belt wipers' project to us and let us wow you with our topnotch level of expertise. Plan Tech a leader in cast urethane manufacturing, process's urethane additives from the world's leading chemical companies. Whether its enhanced lubricity for high abrasion resistance applications or for anti-static wheels for shoppers who don't want to be zapped touching a metal cart. Having more than 30 years experience in the polyurethane industry provides Plan Tech the specific knowledge of incorporating polyurethane additives:
FDA Urethane Additives: Eriez POLYMAG® a leading manufacturer of Metal Detector systems, allows urethane molders to produce FDA Metal Detectable and X-Ray Visible urethane parts for food contact applications that can satisfy varying levels of detectability. Acceptable for repeated contact with food under section #177.21000, subpart F. Can be used in continuous and repetitive contact with dry, aqueous and fatty foods. Typical features of these polyurethanes include outstanding abrasion resistance, high tensile and tear strength, and excellent load bearing capabilities.
Are you interested in cast Urethane Conveyor Belt Wipers? Please Contact us so we can help solve your requirements and work with you on your specific application!