Urethane conveyor rollers are commonly made from a steel core coated with polyurethane commonly found in assembly lines. Urethane conveyor rollers are replacing plastic, rubber and metal rollers in today's high demand manufacturing environments. Urethane conveyor rollers help belt drive systems to operate longer with less downtime and lower replacement maintenance costs with short lead times on replacement. We can process urethane conveyor rollers up to 4' feet long and 20'' in diameter.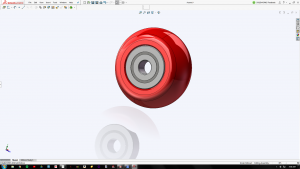 Every polyurethane conveyor roller is custom made to any specification required. Tight tolerances or complete polyurethane conveyor rollers are not a problem for us at Plan Tech. We can also strip and recover any existing urethane conveyor rollers that were previously coated. Unlike plastic, rubber and steel polyurethane conveyor rollers offer very long service life with the great ability to absorb vibration and dampen noise. Urethane conveyor rollers offer better traction than traditional rollers with additives that can reduce static build up causing the material being processed to stick to the roller.
Cast urethanes combine many of the advantages of rigid plastics with the elasticity of rubber. Urethane helps resists abrasion, provides excellent grip and reduces the shock and impact on load-bearing capacity. Cast polyurethane conveyor rollers make a great choice for many demanding applications. Our engineering department can turn your idea, sketch, drawing or CAD file into custom urethane parts. We will reverse engineer to recreate any urethane part for production or one-off urethane pieces. The engineering department uses SolidWorks and our machine shop uses CamWorks for 3 axis milling. Our equipment includes CNC mills, lathes, polyurethane grinders as well as a state of the art urethane waterjet cutting machine. Secondary equipment includes sheet metal, welding, grinding, automated cutoff, broaching and more. We offer complete manufacturing capability for the inserts or cores required for your parts and provide one-stop shopping for all of your custom cast polyurethane products.
Please Contact us for further details regarding your custom urethane conveyor rollers applications!