Urethane covered clamp blocks help eliminate scratching and damaging of finished or coated products. Our urethane covered clamp blocks are always on high demand because of its ability to withstand extreme weather conditions even in the most demanding industrial applications. They are known for their excellent abrasion, corrosion, and chemical resistance while offering long-run durability and extreme resistance to harsh environments of water, cold, heat, and solvents.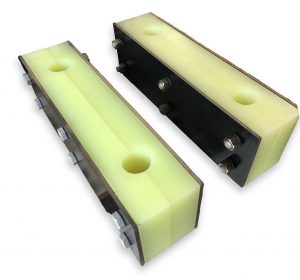 Over the years, urethane has continued to replace plastic, rubber, and steel as the material of choice in many industries. It has numerous benefits and as such engineers recommend them almost all of the time in demanding applications. Poly covered clamp blocks manufactured by Plan Tech has proven to be an excellent choice for all construction professionals seeking a simple but economical solution. Our clamp blocks are not just extremely sturdy but also offer impeccable functionality, strength and can be custom designed to complement your aesthetic designs.
A wide variety of custom clamp blocks are available at Plan Tech. Our covered clamp blocks are constructed and designed to be suitable for all applications. For everyone who loves easy, fast and convenient installation, our urethane covered clamp blocks are the answer! Plan Tech strives to use the latest in design software technology for the designing of complex urethane molds. We utilize SolidWorks to design all of our open face and compression molds per customer specifications. When we have completed our design that has been approved by the customer we machine them using CAMWorks at our in-house machine shop. This creates a faster "concept to production" environment to produce superior parts for our customers. Below is a list of the software used for designing urethane molds:
PTC Creo:  PTC Creo formerly known as Pro/ENGINEER, is a 3D CAD/CAM/CAE feature-based, associative solid modeling software. PTC Creo is one of a suite of 10 collaborative applications that provide solid modeling, assembly modeling, 2D orthographic views, finite element analysis, direct and parametric modeling, sub-divisional and NURBS surfacing, and NC and tooling functionality for mechanical designers.
Are you interested in Urethane Covered Clamp Blocks? Please Contact us so we can help solve your requirements and work with you on your specific application!