Urethane cradle rollers manufactured by Plan Tech are designed for chain conveyor production systems. This allows for the safe transportation of components or storage of monopiles, rotor blades, turbines, boats etc.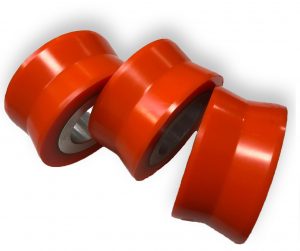 Our urethane cradle rollers have always been in high demand over the years, and they are one of the numerous top quality urethane products we manufacture here at Plan Tech. To ensure that our urethane cradle rollers are always of world-class quality, we only make use of raw materials that offer the best quality available. Other factors that stand all of our urethane products apart from those of other brands in the industry include our fully equipped state of the art in-house machine shop, our exceptionally talented team of engineers as well as our application of speed and precision during manufacturing.
Using our state of the art mixing machine, our experts are capable of casting custom urethane cradle rollers of any shape, size or hardness. The polyurethane cradles we produce at Plan Tech are also capable of withstanding temperature extremities and harsh environmental conditions.
With our over 30 years' experience of producing the very best of urethane products, you can count on us to effectively handle your polyurethane cradles' project from design to completion. Polyurethane is very similar to a rubber or plastic. Unlike nylon or UHMW, urethane can be compounded to produce very soft parts, as low as 20A Durometer, or up to very hard, 75D Durometer. Polyurethane is ideal in high demand applications were normal rubber would fail. The directory of test methods for cast urethane parts that are specified by ASTM are (a specific test method could vary):
Elongation: (ASTM D412) Elongation is defined as the length at breaking point expressed as a percentage of its original length (i.e. length at rest) e.g. if a urethane reaches twice its length before breaking its elongation is 100%. Specialty urethane parts have a 300% elongation rating for special applications.
Are you interested in urethane cradle rollers? Please Contact us so we can help solve your requirements and work with you on your specific application!