Urethane crane rollers are produced at Plan Tech for the most demanding applications. Our high-performance urethane material is rated for high load applications where OEM and similar material will not hold up. Our open cast TDI material is extremely tough for any application with a variety of additives to enhance physical properties of the urethane. Our most common additive is called Armoglide which will add lubricity to the urethane material and also help keep dirt from sticking to the rolling surface.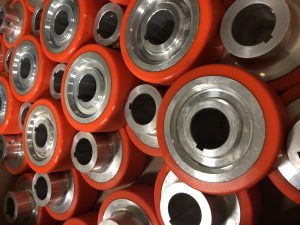 Plan Tech also offers recoat services to strip and recoat existing crane rollers as well as fabrication new rollers at our machine shop. Currently, the longest roller we can machine is 48'' long with a diameter up to 12''. Each of the urethane crane rollers will be media blasted before a coat of chemical bonding adhesive is applied directly to each shaft. This will ensure a bond to urethane strength greater than the tear strength of the material so there will not be any failures due to delamination of the coating from the shaft. Most custom profiles are available in higher durometers. Plan Tech will custom grind each roller and hold a tight tolerance of +/-.005 to ensure each of the urethane crane rollers will perform the same. Plan Tech can also reverse engineer any existing urethane crane rollers for an OEM replacement with the ability to tailor the physical properties and performance as needed.
Manufacturing urethane crane rollers that effectively incorporate a metallic or non-metallic component requires a superior method for achieving a bond between the urethane and the substrate. Here at Plan Tech, we have developed preparation methods to consistently apply specially formulated urethane adhesives. Our proprietary equipment for cleaning, preparation, automated adhesive spray application and automated drying ensures a consistently high-strength bond between the urethane and the substrate.
Please Contact us for further details or to answer your questions regarding urethane crane rollers.