Urethane crown bar channels are the best protectors or covers which provide protection to the interior components that they will remain protected or secured for a long time. In addition to this, they can also be used to protect your wire, rubber and perforated plate screens from any sort of damage like breakage or failures of the material. That failure could be the premature failure of the material. Our custom-produced designs permit crown bar channels to stay intact on the crown bar rail which does not allow to roll them off like rubber crown bar channels.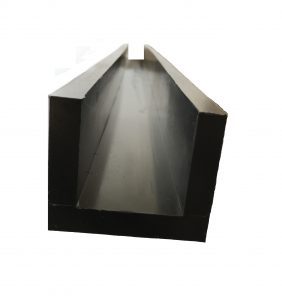 Our urethane channels are reliable to that extent that they don't scrape like rubber crown bar channels as rubber bar channels cause screen failure when it is scraped or screen tension is lost. That's the reason Plan Tech's crown bar channels are highly recommended for those screens which are highly loaded.
Better abrasion resistance provides longer life, so our material is designed on the same principle. That's the reason our custom manufactured material has less downtime and less maintenance is required which results in lower operating costs. Our customers expect low/er capital expense costs and less downtime which saves money.
There are many features of our rubber crown bar channels cover. Some of them include abrasion resistivity, cuts and tears resistivity, positive gripping action, less noise and vibrations, easy installation, long-lasting screen life and low maintenance cost. In addition to this, their life can be up to five times longer than rubber, available in any length, thick top which absorbs the shock of impact. Moreover, the legs can be tapered is slightly in inward direction to prevent rolling off of the bar during unfavorable conditions. We have a variety of reliable long-lasting screen accessories to meet all of our customer's requirements.
Are you interested in Urethane Crown Bar Channels? Please Contact us so we can help solve your requirements and work with you on your specific application!