Urethane dampening bumpers are produced in all shapes and sizes at Plan Tech. Custom urethane dampening bumpers profiles are our specialty! Urethane dampening bumpers are commonly found in large machinery and used as dunnage parts for shipping.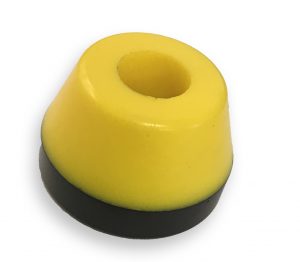 Dampening bumpers are cast from high-performance urethane prepolymer for maximum damping ability in all environments. Urethane is a great choice of material due to it being chemical resistance and easily molded into any profile for the applications. Existing urethane dampening bumpers can be reverse engineered for reproduction as well as changing profiles to maximise the dampening ability. These bumpers often times have molded or bonded metal backing or inserts for bolt-on applications. At Plan Tech we are able to produce any metal backing or insert needed for the job. We will work with you on every detail to ensure each and every custom urethane dampening bumpers are exactly what is needed for the job. Most bumpers are cast from a low rebound material for maximising the ability to absorb an impact and return to its original size even after years of heavy abuse. For special applications a high rebound material is available. Large or small cast urethane dampening bumpers can be produced in high volume in record time.
Our engineering department can turn your idea, sketch, drawing or CAD file into custom urethane parts. We will reverse engineer to recreate any urethane part for production or one-off urethane pieces.The engineering department utilizes SolidWorks and our machine shop uses CamWorks for 3 axis milling. Our equipment includes CNC mills, lathes, polyurethane grinders as well as a state of the art urethane waterjet cutting machine.Secondary equipment includes sheet metal, welding, grinding, automated cutoff, broaching and more. We offer complete manufacturing capability for the inserts or cores required for urethane rollers, wheels, bearings and all of your custom urethane parts.
Please Contact us for further details or to answer your urethane dampening bumpers design questions!