Molded urethane dampers manufactured by Plan Tech are produced using the best method and molding techniques in the industry. We use different types of molding processes in the manufacture of molded urethane dampers. This urethane molding process includes:
Open casting: In this process the reaction takes place when the raw materials are combined and poured into a mold set and cure. Open casting thermoset process gives you different range of physical properties.
Compression molding: this process involves subjecting urethane in a heated mold, it is then put under high pressure to set up and cure. This method is important because it reduces excess flash, and has a fine finishing.
Centrifugal molding: centrifugal molding involves the use of a permanent mold; the mold is rotated continually about its axis at high speeds.
Other urethane molding process includes injection molding, liquid injection molding and foaming. Plan Tech manufactures molded urethane dampers including other products made from urethane such as urethane molded casting, urethane molding parts; polyurethane molding and we also offer customized urethane molding services.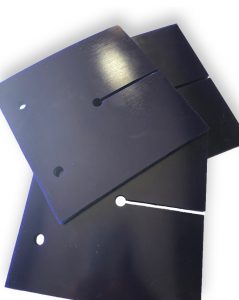 Our team of engineers and technicians with over 30 years of experience utilizes the best urethane molding techniques during the production process of our products. Plan Tech a leader in cast urethane manufacturing, process's urethane additives from the world's leading chemical companies. Whether its enhanced lubricity for high abrasion resistance applications or for anti-static wheels for shoppers who don't want to be zapped touching a metal cart.
Having more than 30 years experience in the polyurethane industry provides Plan Tech the specific knowledge of incorporating polyurethane additives:
FDA Urethane Additives: Eriez POLYMAG® a leading manufacturer of Metal Detector systems, allows urethane molders to produce FDA Metal Detectable and X-Ray Visible urethane parts for food contact applications that can satisfy varying levels of detectability. Acceptable for repeated contact with food under section #177.21000, subpart F. Can be used in continuous and repetitive contact with dry, aqueous and fatty foods. Typical features of these polyurethanes include outstanding abrasion resistance, high tensile and tear strength, and excellent load bearing capabilities.
Are you interested in cast urethane dampers? Please Contact us so we can help solve your requirements and work with you on your specific application!