Urethane deck pads help to protect, improve design and offer unsurpassed strength and deck control. With our deck pads, you are guaranteed of enhanced wear property, high impact strength, remarkable chemical, abrasive and corrosive resistance ability, quiet operation and long service life. This is because our polyurethane deck pads are manufactured with special urethane formulation which means it possesses an outstanding ability to withstand severe or harsh environmental conditions.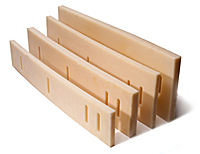 We have a team of dedicated, experienced engineers, chemists and sales personnel that can help you in the development of your rubber deck pads from start to finish. We also have a good number of other proven deck products that will help you get more life out of your machinery.
Polyurethane deck pads manufactured by Plan Tech are the best the industry has to offer. Our urethane deck pads stand apart from those of other brands in the industry; this is because we make use of only top-notch urethane materials and formulas.
In order to ease production from start to finish, our rubber deck pads are designed in-house and rapid prototyping is available. Our customers also have the flexibility of having their parts cast to size, die-cut, or machine finished. Plan Tech a leader in cast urethane manufacturing, process's urethane additives from the world's leading chemical companies. Whether its enhanced lubricity for high abrasion resistance applications or for anti-static wheels for shoppers who don't want to be zapped touching a metal cart. Having more than 30 years experience in the polyurethane industry provides Plan Tech the specific knowledge of incorporating polyurethane additives:
UV Protection Urethane Additives: Ferro is a leading global supplier of ultraviolet UV protection technology-based functional coatings and color solutions in urethane products protecting color pigments for urethane industries that are heat stable, lightfast, and chemical and weather resistant.
Are you interested in Urethane Deck Pads? Please Contact us so we can help solve your requirements and work with you on your specific application!