Urethane die cutting springs are an essential component for the die cutting operation where conditions like vibration, corrosion, or magnetism prevent the use of standard or normal steel springs and that makes urethane die springs the ideal alternative standard steel springs. One reason why urethane die cutting springs are more suitable for die cutting operation than their conventional steel counterpart is the fact that traditional steel springs fracture during operation and such fractures can leave machine operators with severe injuries.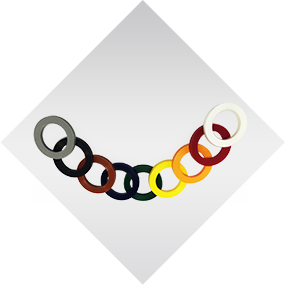 Like all of our urethane products, our die cutting springs are made from first-grade quality products produced by world-class chemical manufacturers, and they offer such advantages like their remarkable ability to withstand high pressures, absorb noise, high dielectric strength, a massive load-carrying capability and impressive ability to dampen vibration. We can custom make your urethane die cutting springs, and our tailor-made die cutting springs resist compression and can either be bonded to a variety of materials or cast made of solid urethane. We create space for expansion when installing our urethane die cutting springs because that is what allows them to expand when deflected under the pressure of heavy loads. 95A durometer urethane die cutting springs are the most commonly demanded springs we supply. However, we have other durometers available, and we can meet any profile of urethane die cutting springs you require.
We create complex molds for our in-house use as well as many of the components that are molded into customer products. Molds are machined from aluminum or tool steel depending upon tool life requirements. The inserts and cores that we manufacture are made from a wide variety of metals and plastics including UHMW PE, ABS, aluminum and steel. The machining of urethane die cutting springs requires special skills and dedicated equipment. In many instances, we have developed custom equipment for cutting, trimming, staking and deburring per our customers' requirements.
Please Contact us for further details regarding Urethane Springs!