Urethane die pads provide a surface which in turn helps eliminate any form of complications during metal forming. Plan Tech engineers carefully manufacture urethane die pads and ensure that the product's mechanical speed, pressure and temperature are fully considered during production. Engineers prefer our urethane die pads over plastic or rubber because of their long wear, superior performance, and outstanding resistance to extreme weather conditions.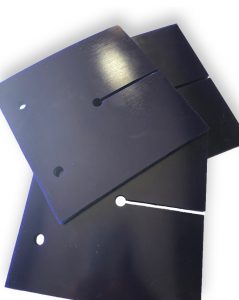 Plan Tech's urethane die pads are frequently used in demanding applications and have proven to be the best the industry has to offer.
The worry of extra steps and finishing is completely eliminated. When you make use of our polyurethane die pads, they allow your part/design to come out perfectly formed, over and over again. With this method of forming metal new designs of parts can easily become a reality. Our engineers also make use of deflector bars under the pad to help dictate the flow of the urethane pad during forming. This, in turn, maximizes the efficiency, performance, and durability of the pad while minimizing the tonnage requirements.
So, are you in need of smart, state-of-the-art rubber die pads? Plan Tech is the best to work with; we can also produce custom made designs of different texture, size, diameter, and color depending on your specifications. Plan Tech a leader in cast urethane manufacturing, process's urethane additives from the world's leading chemical companies. Whether its enhanced lubricity for high abrasion resistance applications or for anti-static wheels for shoppers who don't want to be zapped touching a metal cart. Having more than 30 years experience in the polyurethane industry provides Plan Tech the specific knowledge of incorporating polyurethane additives:
Flame Retardant Urethane Additives: PAG is a well-established manufacturer and global supplier of flame retardants and smoke suppressants for polyurethane applications warehousing material throughout the United States, PAG is able to respond to customers in a timely fashion and provide cost savings. PAG Holdings is committed to providing the highest quality products with unsurpassed service.
Are you interested in Urethane Die Pads? Please Contact us so we can help solve your requirements and work with you on your specific application!