Urethane disks manufactured at Plan Tech are made to strict performance standards and are available in a variety of hardnesses, sizes, and thicknesses. Based on the superior abrasion and wear resistance qualities of our proprietary polyurethane formula, our urethane disks provide long, reliable performance.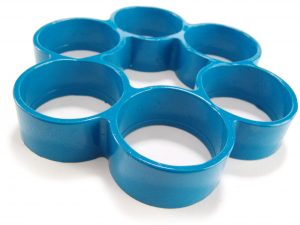 They are also compact resistant and offer exceptional durability, easy usability as well as other properties (like weather, abrasion and chemical resistance) that are equally second to none. And like every other urethane products manufactured at Plan Tech, our team of technicians (who boast outstanding technical depth) applies speed and precision during the production of our urethane disks.
With the state of the art in-house machine shop at Plan Tech that is fully equipped with first-grade machinery, you can count on our team of genius to successfully handle your urethane disks project from design to finish. Our engineers are renowned for turning simple sketch or ideas into finished products that boast world-class quality which has been ranked among industry leaders for as long as possible.
When it comes to meeting customer demands and ensuring maximum satisfaction, we are second to none in the United States of America and the world beyond. Plan Tech strives to use the latest in design software technology for the designing of complex urethane molds. We utilize SolidWorks to design all of our open face and compression molds per customer specifications. When we have completed our design that has been approved by the customer we machine them using CAMWorks at our in-house machine shop. This creates a faster "concept to production" environment to produce superior parts for our customers. Below is a list of the software used for designing urethane molds:
Siemens NX: Siemens NX was formerly known as NX Unigraphics or usually just UG, is an advanced high-end CAD/CAM/CAE software package originally developed by Unigraphics. NX software helps you design, simulate and manufacture better products faster by enabling smarter decisions in an integrated product development environment. NX is the Industry's most integrated, flexible and efficient solution for product design, engineering and manufacturing.
So, regardless of the volume or quality of urethane disks, you may require for your business, you can rely on us for satisfactory delivery.
Are you interested in cast Urethane Disks? Please Contact us so we can help solve your requirements and work with you on your specific application!